poke0827

's Profile


27%
Bold nature
Shinx



27%
Naughty nature
Ekans



27%
Modest nature
Shinx



27%
Lax nature
Hoppip




27%
Lonely nature
Swablu




27%
Modest nature
Go to Fields
Trainer
poke0827



Joined: 11/Sep/2019
Starter: Shinx
Rank: E+ Ace

Silver Normal Gemwish Badge

Bronze Fire Gemwish Badge

Silver Water Gemwish Badge

Silver Electric Gemwish Badge

Silver Grass Gemwish Badge

Bronze Ice Gemwish Badge


Bronze Poison Gemwish Badge

Bronze Ground Gemwish Badge

Bronze Flying Gemwish Badge

Bronze Psychic Gemwish Badge

Silver Bug Gemwish Badge

Bronze Rock Gemwish Badge

Bronze Ghost Gemwish Badge

Bronze Dragon Gemwish Badge

Bronze Dark Gemwish Badge

Bronze Steel Gemwish Badge

Bronze Fairy Gemwish Badge
Note: Just got a new phone, IP might change a little Stay hydrated <3 #BLM #SAAPIH
About poke0827
4 hours behind reset. (EST) Forum avatar by
OneTwo!
Team Flying score:
622
New adult / She/her I played PF1 back in 2015-16 with this username, left around when PFQ went beta, and forgot about Pokéfarm until August '19. Hoping to build my Pokédex up and become a successful Pokémon breeder!
Someday I'll get one of those fancy templates, and this won't be so sloppy.
Hopefully this looks a little better.
-Home-

About me (WIP)

Clickbacks

Pokes that could use some love

Misc.
I will usually clickback before reset! Fields mostly unsorted for now, 'cause I'm a weird kid who thinks all my 800+ Pokemon are individuals that shouldn't be covered up by being stacked. :p Fields beyond Field 3 are a total mess, but Fields 13, 15, 18, and 22 are sorted and piled stacked. If your party is full of hatchable eggs, I'll wait for you to hatch them or click your fields instead. I will always at least attempt to 1:1, even mass clicks! If I don't, I was most likely away from home, or did a last minute click-back crunch just before reset and missed you. I... don't really like clicking lvl 100 Pokémon.
WIP
IP
I play on my phone, and my Mac (tablet broke ;~;), so I may have two IPs at times!
Achievements
My first summon!
Nov/22/2019 15:47:19 server time Got a PokeRadar! Mar/29/2020 23:50:?? First shiny!!
Apr/22/2020 19:49:24 Got a Holon Capacitor! Apr/29/20 21:52 Got an Albino Radar! May/09/20 20:40 First self-hatched Fakemon!
May/17/20 15:53 First albino!
First set of same-party specials!?
Misc.
All my Pokemon are named, 'cause why not? ¯\_(ツ)_/¯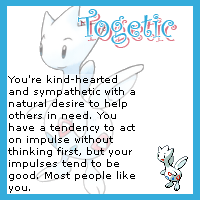 What kind of Pokémon are you?
I can name 72 Pokemon in 5m 1s
Click here to Play