Kate1998

's Profile

Kakashi




27%
Lonely nature
<Empty>

<Empty>

<Empty>

<Empty>

<Empty>

Go to Fields
Trainer
Kate1998



Joined: 04/Feb/2018
Starter: Torchic
Rank: Superior

Bronze Normal Gemwish Badge

Bronze Fire Gemwish Badge

Bronze Water Gemwish Badge

Bronze Electric Gemwish Badge

Bronze Grass Gemwish Badge

Bronze Ice Gemwish Badge


Bronze Poison Gemwish Badge


Bronze Flying Gemwish Badge

Bronze Psychic Gemwish Badge

Bronze Bug Gemwish Badge

Bronze Rock Gemwish Badge





Hello.I have a shop down in my about me.Feel free to visit my shop,and other things!
About Kate1998
Kate1998
Links(Credit is down below)
Shiny Hunts
Badge Case
Please feed the Pokemon in my field and visit these links here!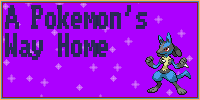 RP link!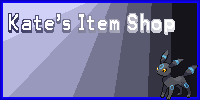 Fanfiction Link!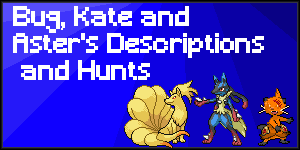 Support Sammy's shop here! Thank you!Credit to Aster for making these posters!Art shop is
here!
Shiny Hunt:Eevee 10 Eevee Hatched
Future Shiny Hunts

Articuno,

Eevee,

Charmander,

Shinx,

,Ralts
Gym Badges: