crowlinqs

's Profile

Flawless Ghost Gem
Gem
(

: 0)
A beautiful Ghost Gem that shines radiantly.
Sells for

10,000



27%
Careful nature
Eldegoss



27%
Timid nature
Inteleon



27%
Calm nature
Corviknight




27%
Naïve nature
Toxtricity




27%
Sassy nature
Orbeetle




27%
Calm nature
Go to Fields
Trainer
crowlinqs



Joined: 05/Aug/2018
Starter: Shinx
Rank: B Champion

Mythril Normal Gemwish Badge

Titanium Fire Gemwish Badge

Platinum Water Gemwish Badge

Platinum Electric Gemwish Badge

Adamantium Grass Gemwish Badge

Platinum Ice Gemwish Badge

Gold Fighting Gemwish Badge

Platinum Poison Gemwish Badge

Silver Ground Gemwish Badge

Adamantium Flying Gemwish Badge

Platinum Psychic Gemwish Badge

Titanium Bug Gemwish Badge

Silver Rock Gemwish Badge

Titanium Ghost Gemwish Badge

Silver Dragon Gemwish Badge

Platinum Dark Gemwish Badge

Gold Steel Gemwish Badge

Platinum Fairy Gemwish Badge
If you mass clicked me and I forgot to click back before reset, please let me know! ♡ [really, don't be shy! ;o; ] S/A Rowlets up for sale for cheap here: [
link
]
About crowlinqs
---
035 Genrachi Phantom Wish Pokémon
---
HT 2' 0" WT 16.5 lb
---
Though inherently mischievous, this Pokémon is thought to seek those of pure heart and grant their wishes.
Pokésona sprite made by the lovely KitKatKutie2!
☆crow || female|| 19☆ Hello to all guys, ghouls and other phantom friends! ♡ - Sucker for ghost types of all kinds! - A shy, often unmotivated artist. - Loves to chat,, feel free to contact me! [Slow replies sometimes!]
Here's a (growing) collection of beautiful sprites I've commissioned from other users!
By KitKatKutie2:


By sørax:
By tengloom:
By Devil0356
































By Zephyria:
By Shadarin:
By: Napsta Blooky
By Airazon:






By HowlingCat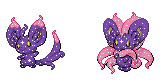 By HuntedTiger6

melan bait by fridayangel ♡
Summary
Hi!
Sprites
♡
Bait