Xygallix

's Profile


MAX
Timid nature


MAX
Bashful nature



MAX
Quiet nature


MAX
Bashful nature


MAX
Docile nature



MAX
Bashful nature
Go to Fields
Trainer
Xygallix



Joined: 09/Dec/2022
Starter: Charmander
Rank: S Champion

Silver Normal Gemwish Badge

Bronze Fire Gemwish Badge

Platinum Water Gemwish Badge

Bronze Electric Gemwish Badge

Gold Grass Gemwish Badge

Bronze Ice Gemwish Badge

Bronze Fighting Gemwish Badge

Platinum Poison Gemwish Badge

Silver Ground Gemwish Badge

Silver Flying Gemwish Badge

Silver Psychic Gemwish Badge

Silver Bug Gemwish Badge

Bronze Rock Gemwish Badge

Gold Ghost Gemwish Badge

Gold Dragon Gemwish Badge

Silver Dark Gemwish Badge

Bronze Steel Gemwish Badge

Bronze Fairy Gemwish Badge
S/A applin/magikarp UFT in first field Lots of pokemon/pairs in my free fields too!
About Xygallix
Welcome
Random
Free
Fields
Collecting
About Me
This awesome doodle was made (for me) by the incredible Rowlet
Used with permission
This is my dex progress I accept all spar requests and if I win, I'll send you an easy win in return I do try to click back, but may miss field clicks. Please don't feel obliged to reciprocate any mass clicks.

Vivillon pattern: Icy Snow

Maravol pattern: Mimic :( Proud to have been part of team dragon August 2023!
Trophy by SUNNELIØN
PFQ sprite used with permission
You must provide links for free pokemon you want [url]link[/url] or [url=link]text[/url] I will not split free pairs All start with: "✿" and/or "Free" Then there may be a symbol or two: High level: ⬆ Rare gender: ⚥ Legendary: ∆ Exclusive: ◉ Variant: ◎ Prehistoric: ☄ My current hunt: ⟳ (released often) Other symbols: sorted by berry pref None of the above: No symbol I will (usually) cancel trades after 24 hours or so, just to free up the trade slot. If that happens, you are welcome to request the same pokemon again if it's still available.
I'm neurodivergent and fields are named with symbols, this makes them easier for me to read. This is a guide to my field names (excluding free fields) Sorted by berry pref Any: ☾ Sour: 🌧 Spicy: ☀ Dry: ☂ Sweet: ☼ Bitter: ❄ Unsorted Pokemon I want easily accessed: ↟ Shiny/Albino: ★ or ☆ or ✭ or any other star UFDT: ♔ Scours: ⌘ Contest, custom sprites, starters: ♫ ❃ 🌱 Delta: ☢ Raising happiness: ☺ Breeding pairs: ⚤
I collect: All quirky/bashful/any berry pokemon Especially these lines: Chespin Growlithe (all variants) Dratini Bagon Charmander Ryumen Houndour (orthrus line) Magikarp (for fun)









Adult. Autistic. Agender. UK based. I often struggle with social anxiety. Preferred pronouns: they/them, happy with anything except "it" or the "species-self" pronouns Apparently this...?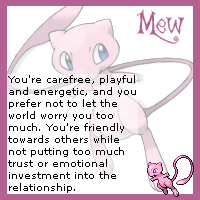 Top left image & forum avatar are based on official sprites/artwork. Both fused by me code by
sceptios
(
free to use
)