Temporal

's Profile

Raboot



27%
Timid nature
Zigzagoon




27%
Relaxed nature
Clobbopus



27%
Timid nature
Wooloo



27%
Sassy nature
Rookidee



27%
Hardy nature
Impidimp




27%
Rash nature
Go to Fields
Trainer
Temporal



Joined: 23/Feb/2014
Starter: Rowlet
Rank: A+ Champion

Platinum Normal Gemwish Badge

Nintendium Fire Gemwish Badge

Mythril Water Gemwish Badge

Adamantium Electric Gemwish Badge

Adamantium Grass Gemwish Badge

Adamantium Ice Gemwish Badge

Silver Fighting Gemwish Badge

Platinum Poison Gemwish Badge

Titanium Ground Gemwish Badge

Titanium Flying Gemwish Badge

Wishalloy Psychic Gemwish Badge

Platinum Bug Gemwish Badge

Wishalloy Rock Gemwish Badge

Dullahan Gemwish Badge

Titanium Dragon Gemwish Badge

Titanium Dark Gemwish Badge

Forge Master Gemwish Badge

Titanium Fairy Gemwish Badge
i am lost but hi
About Temporal
drawn by me
Welcome to
Temporal's
Bungalow
Hello! I have
7700
+/- single stacked pokemon, not all full sorted Please call me
Temporal, Temp, or Ano
. I'm your local Ghost hoarder! .Slytherin // Wampus. I really, like really love Fire Emblem and Dragon Age. And I'm an Illustration Major *v* !!

Feel free to send me any Magquaza you aren't needing! <3 Here is my
Trade Shop
Click for art archive
My Instagram!
- more art And, feel free to add me on
discord
Temporal#6583
. I'm always up to talking through IM, not so much PMs. Do remember to tell me your PF name too lol. wow i have space here now???
Hoard/ Collects



~4,900
plain candles and swords
.
32
calla lilly candles, stained blades and souvenir jars of sand (shiny)
.
11
butter cream candles and pale assailants (albino)
.
3
black tea candles and forgotten iron (melan)

× 400 / 1000

× 374 / 1000

× 70 / 1000

×146/??? ||

×669
save for future melan hunt <3
Also always looking for dusk stones to evolve Lampents! 8816

- always looking for credits!
Hunt Stats
Current

9A
(6m)(233m)(247m)(303f)(330m)(623m)(728m)(793f)(836m)/
32S
(114m)(118m)(138m)(171m)(175m)(213m)(236m)(264m)(266m)(272m)(304m)(318m)(320m)(355m)(361m)(432m)(439m)(489m)(564m)(581m)(597m)(634m)(711m)(771m)(815m)(819m)(881f)(902m)(904m)(927m)(933m)(945m)/
965H
PMs/ FRs
Regarding messages and friend requests- I may change this tab to something else if I feel the need to. Please do not send me a friend request unless we have spoken before. I don't want a list running too long of people I barely know. I read all PMs that are sent to me, but I may not reply. Please don't take this personally. Usually, I'm unsure of what to say so I'll just leave it. Some times, I don't want to reply. Other times, the amount of PMs/other notifications I have is making me anxious. It doesn't matter which of the above is, the end result on my side will be the same. Basically, meaning, very rarely do I reply to PMs. So, please don't spam me when I don't reply .3.
Dex Trades
I am happy to dex trade my shiny/albinos/melans for other albinos/melans (meaning, I don't want shiny dexes!) Other acceptable payments are ghost gems and boxes. For my legends, GP is also applicable. My melans* will only be dex traded for shiny/albino legends or other melans. This is non-negotiable. Please check my 'Lovelies' fields for what I have! Since I don't yet have a list of the entries I already have, just tell me what you have to offer. *Melkor is NOT for dex trade. Please, don't ask for his dex.
Bait!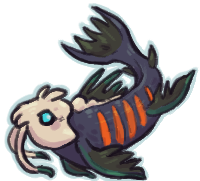 Melan Skeleco bait by me!
mel







The Boogeyman
||
PKRS
x221
|| i am a mango