SpõrköBug

's Profile


99%
Joltik




27%
Docile nature

Everstone
Special Evolution Item
(

: 0)
A peculiar stone that prevents a Pokémon from evolving when Held.
Sells for

250


27%
Brave nature
Go to Fields
Moderator
SpõrköBug



Joined: 09/Feb/2014
Starter: Litten
Rank: S Champion

Nintendium Normal Gemwish Badge

Nintendium Fire Gemwish Badge

Adamantium Water Gemwish Badge

Mythril Electric Gemwish Badge

Nintendium Grass Gemwish Badge

Mythril Ice Gemwish Badge

Titanium Fighting Gemwish Badge

Adamantium Poison Gemwish Badge

Adamantium Ground Gemwish Badge

Adamantium Flying Gemwish Badge

Nintendium Psychic Gemwish Badge

Nintendium Bug Gemwish Badge

Wishalloy Rock Gemwish Badge

Mythril Ghost Gemwish Badge

Mythril Dragon Gemwish Badge

Mythril Dark Gemwish Badge

Titanium Steel Gemwish Badge

Mythril Fairy Gemwish Badge
About SpõrköBug
Now Hunting Solosis!(I made this art) (Buy something like this Here!)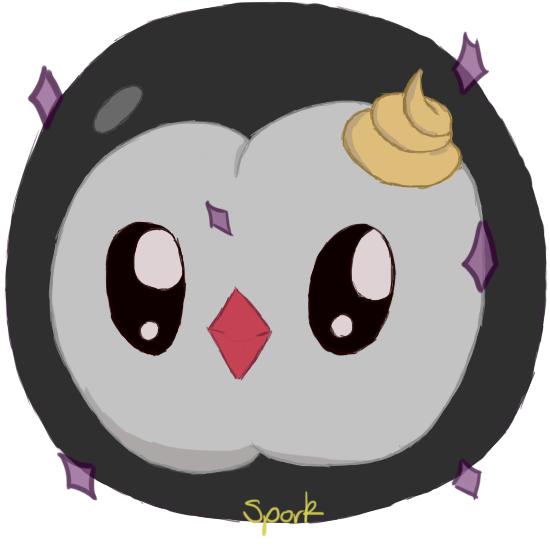 About
Hiya, my name is Sporko! I'm a Joltsodour! I'm a Hybrid of an Absol, Joltik, and Houndour! I can also Produce Glitter! Natural, shiny, Sparkly glitter~! And it's edible, use it on cakes, cupcakes and bread! I am Spork, I go Bork. Female, April 16, 1997.
Shazi
and
Suriya
are my best friends and I love them so much.
Farm
Trylies Farm is a Safe Haven for Strange and Wonderful Pokemon~! We have Plans to find some more Beautiful and Strange Beauties in the future! You can find what we're wanting to find in my
Journal!
Collecting
I collect Lake Trio Summons!
I also collect:
All Gems(Apart from Rock currently), Sassy Pokemon, Delta Pokemon, Relics, And of course Currency.
Links
Code and Art by
Shazi