RogueWolf26

's Profile

Trainer

RogueWolf26



Joined: 06/Feb/2014
Starter: Fennekin
Rank: SS Arceus

Titanium Normal Gemwish Badge

Nintendium Fire Gemwish Badge

Mythril Water Gemwish Badge

Titanium Electric Gemwish Badge

Nintendium Grass Gemwish Badge

Platinum Ice Gemwish Badge

Adamantium Fighting Gemwish Badge

Nintendium Poison Gemwish Badge

Mythril Ground Gemwish Badge

Titanium Flying Gemwish Badge

Adamantium Psychic Gemwish Badge

Wishalloy Bug Gemwish Badge

Platinum Rock Gemwish Badge

Mythril Ghost Gemwish Badge

Nintendium Dragon Gemwish Badge

Titanium Dark Gemwish Badge

Mythril Steel Gemwish Badge

Mythril Fairy Gemwish Badge
♥♥I hoard: Growlithe+, Noismog+, Sikkanos, and special Quirkies!♥♥ 8600+ Sorted and stacked fields~ Swapping summons for Fire Fangs! [
link
]
About RogueWolf26
About Me
Saved Hunts
Current Hunt
Type Race
Likes
Games
31 years old. Washington, USA. She/Her. Always willing to make new friends. I'm an ally! ❤️️💛💚💙💜 I am most active on weekends. I work M-F full time. If I forget to respond to a PM, just poke me. I'm tired. I'm sorry. 😅




<--Frens? Frens. *nod*

Everstone
Special Evolution Item
(

: 0)
A peculiar stone that prevents a Pokémon from evolving when Held.
Sells for

250


MAX
Quirky nature

Reveal Glass
Forme-Change Item
(

: 0)
A looking glass that reveals the truth. It's a mysterious glass that returns a Pokémon to its original shape.
Unsellable


MAX
Quirky nature
Noismog 5s/5a/0m/320h -paused Noibat 62s/57a/1m/3,076h -paused Sandshrew - 17s/35a/1m/1125h -paused Shellder - 22s/32a/0m/1278h - paused Caprikid - 8s/16a/0m/270h - paused Riolu - 45s/67a/0m/2621h - paused Tenrekki - 2s/4a/0m/109h - paused Roggenrola - 12s/17a/0m/477h -paused Weedle - 21s/18a/1m/762h -paused Cyndaquil - 25s/26a/0m/1276h -paused Ditto - 3s/6a/0m/180h -paused Litleo - 63s/53a/2m/2570h-paused Sikkanos - 5s/11a/0m/492h -paused Treecko - 32s/29a/1m/2046h - paused A. Growlithe - 1s/2a/0m/78h - paused Slypin - 6s/6a/0m/294h - paused Mew - 2s/5a/0m/118h -paused Abra - 20s/25a/2m/810h -paused
Current chain: Growlithe- 106s/68a/0m/4355h 17 troll parties.
Obsessed with: Supernatural. Dean.

♥

The Vampire Diaries. Damon.

♥

The Originals. Elijah.

♥
I love animals, and have a few of my own. I have Oakley, my Bernese Mountain Dog mix puppy, Crikey my African Pygmy Hedgehog, and my three Madagascar Lesser Tenrecs: Howl, Lilith, and Salem~! Typically one of my pocket pets is accompanying me while I play games, snuggled in their scarf around my neck. ♥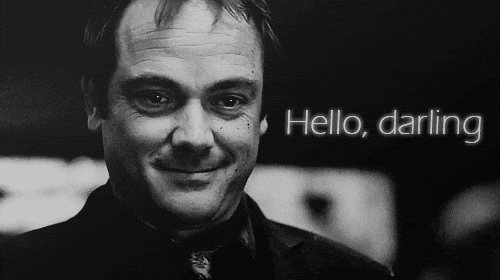 FFXIV is my main game. :3 I began playing June 22, 2015. I main White Mage (healer) and lead a Free Company (guild) called Lycan. I've made some amazing friends, many of whom I've met in real life over the past 5+ years. I mostly enjoy games like Crash Bandicoot, Spyro, and Rocket League. I'm a very casual gamer and spend most of my free time on XIV.