Katastrophy

's Profile


27%
Serious nature
Bidoof



27%
Lonely nature


92%


53%


54%


55%
Go to Fields
Trainer
Katastrophy



Joined: 14/May/2020
Starter: Shinx
Rank: D Champion

Titanium Normal Gemwish Badge

Silver Fire Gemwish Badge

Silver Water Gemwish Badge

Silver Electric Gemwish Badge

Gold Grass Gemwish Badge

Silver Ice Gemwish Badge

Silver Fighting Gemwish Badge

Silver Poison Gemwish Badge

Silver Ground Gemwish Badge

Silver Flying Gemwish Badge

Silver Psychic Gemwish Badge

Gold Bug Gemwish Badge

Silver Rock Gemwish Badge

Silver Ghost Gemwish Badge

Silver Dragon Gemwish Badge

Silver Dark Gemwish Badge

Silver Steel Gemwish Badge

Gold Fairy Gemwish Badge
1:1 Clickback ¦ If I get Pkrs please PM me. I am server time +1, and I'm usually on sporadically during the day until midnight!
About Katastrophy
Remember: No one is allowed to make you feel inferior without your consent
⍟

♥

Status

♡

Hunt

♥

Special

♡

About Me

♥

Clickers
I'm not always on Pokéfarm, but I try and check daily if anyone has left me a PM - understandably staff PMs take more priority over other players. If it's urgent grab me on Discord: Kata#0744.

65 / ??? Newbies Gifted
If I come across your profile and you've got the

on your profile, I will happily gift you a random exclusive pokémon absolutely free! Why am I doing this? Because when I first started on Pokéfarm I was gifted an Ardik which has stayed with me ever since, and I want to show the same kindness to new players as I was when I was brand new too. :)
1st Albino Hatched [Eevee]: 29/05/20 1st Shiny Hatched [Eevee]: 23/06/20 1st Legendary [Jirachi]: 25/05/20 1st Pokerus: 17/05/20

x2 Status: Morpeko here we GO!
Eevee hunt ended: 08/08/20 [Eevee]: 3s/3a/0m/1045h Indeedee hunt ended: 22/10/20 [Indeedee]: 2s/2a/0m/431h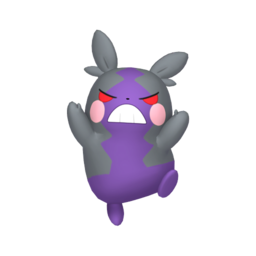 [Morpeko]: 0s/0a/0m/326h

0 / 2 Shiny

0 / 2 Albino

0 / 2 Melan
Hey there, I'm Katastrophy - though most call me Kata. I live over in the south east of England, and yes I do enjoy a cup of tea (earl gray) every so often - and no, I have not met the Queen in person. I tend to think of myself as a friendly person, so if you ever fancy a chat feel free to send me a message! Please be advised that I am 1+ ahead of server time - so I apologise in advance if I don't respond quickly. For the curious I have played Pokémon: Blue, Red, Yellow, Silver, Gold, Sapphire, Emerald, Y, Ranger, Rumble, Masters and Go. Trainer Code: 4735-7864-6074
Want someone to click? Someone crazy and equally as chaotic as me? 🐺
Sapphire
🐺 Saph is my bestfriend, my partner-in-crime in all things insane and is one of the most friendliest people I have ever met. She loves foxes & cute pokémon - and is usually the one I send my spare pokémon to.
code
* sprites by Game Freak