KOs Spleen

's Profile

Celebration Kinaster




MAX
Timid nature


27%
Calm nature


27%
Gentle nature


27%
Hardy nature


27%
Bold nature


27%
Quiet nature
Go to Fields
Trainer
KOs Spleen



Joined: 03/Jan/2019
Starter: Cyndaquil
Rank: A Champion

Gold Normal Gemwish Badge

Mythril Fire Gemwish Badge

Gold Water Gemwish Badge

Titanium Electric Gemwish Badge

Platinum Grass Gemwish Badge

Silver Ice Gemwish Badge

Silver Fighting Gemwish Badge

Titanium Poison Gemwish Badge

Silver Ground Gemwish Badge

Gold Flying Gemwish Badge

Platinum Psychic Gemwish Badge

Gold Bug Gemwish Badge

Gold Rock Gemwish Badge

Platinum Ghost Gemwish Badge

Gold Dragon Gemwish Badge

Platinum Dark Gemwish Badge

Silver Steel Gemwish Badge

Gold Fairy Gemwish Badge
the white lady means no harm...she's just lost, like you. system||minor||he/it/they||Trans||Gay F: Allister hunting pichu until we get wishalloy
About KOs Spleen

About Us!
ignore
Friends!
Links!
DM policy
Banette?
Howdy! We're the Toxic Waste System! We are an OSDD-1B, polyfragmented, and very neurodivergent system with more introjects than I care to count. Our host is currently Jay. While we'd love to be friends, we're slightly picky with who we talk to. We also accept questions from everyone!! We're setting up a system-clicklist. DM me if you wish to be on it! USE HE/IT/THEY PRONOUNS FOR US PLEASE.
Some of our frequent fronters include: Jay (he/they) Wheel (he/him) Tim (my real names Jack I just hate being called Jack.) (They/He) Dipper (he/him) Benji (they/he/crow) and Silver (they/he)
Unfortunately, We have to keep boundaries. Some people we'd like to ask to not message us directly (purchases are just fine!) are: People who believe being gay is weird or wrong, people who believe DID=kinning, people who purposefully misgender others, other basic DNI criteria. Also, if you're gonna DM us on what our stance on syscourse is, find a different topic to DM us about or avoid it all together. It makes us uncomfy, sorry. Our DMs are open to literally anyone else though.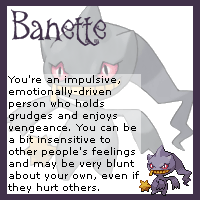 Also the lil banette gif is from Black 2, by gamefreak!