GimpyGirl18

's Profile

Ferroseed




27%
Bashful nature
Croaket (Evolve)



27%
Serious nature
Lileep




27%
Rash nature
Ferroseed




27%
Quirky nature
Cubone



27%
Serious nature
Pancham



27%
Quirky nature
Go to Fields
Trainer
GimpyGirl18



Joined: 05/Nov/2016
Starter: Fennekin
Rank: D+ Champion

Platinum Normal Gemwish Badge

Gold Fire Gemwish Badge

Gold Water Gemwish Badge

Silver Electric Gemwish Badge

Silver Grass Gemwish Badge

Platinum Ice Gemwish Badge

Silver Fighting Gemwish Badge

Silver Poison Gemwish Badge

Bronze Ground Gemwish Badge

Silver Flying Gemwish Badge

Gold Psychic Gemwish Badge

Gold Bug Gemwish Badge

Silver Rock Gemwish Badge

Silver Ghost Gemwish Badge

Silver Dragon Gemwish Badge

Silver Dark Gemwish Badge

Silver Steel Gemwish Badge

Silver Fairy Gemwish Badge
<----- Come take these guys! Just PM me! Also, there's more in my fields!
About GimpyGirl18
Gimpy & Pebbles' ~Farm~

Gimpy: "Come on in; I don't bite! Pebbles might though, with good intentions of course."

Pebbles: *happy bark*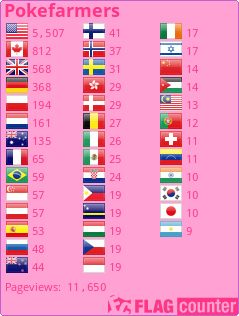 Please help me evolve pokemon to put in the Free fields, just takes a click!
Legendaries: 10GP PFQ Exclusive: 5GP Breeding Pairs: 5GP FREE POKEMON FROM ALL REGIONS! ALONG WITH FREE: Starters Floette Vulpix eeveelutions
Hello! I am GimpyGirl18, or Gimpy for short. A 18 year old who likes playing video games and listens to vocaloid. A bit shy, but friendly. :)
(Gimpy Sprite edit by me.)

Other games you can find me on!


Pokecolo

Love Nikki Fashion Queen

Valkyrie Connect

Chicken Smoothie

Animal Crossing Pocket Camp

Lioden

OviPets
Pebbles is my Midday form Lycanroc that I love very much. He's a great companion that helps me around in my fields. Show him some love by feeding him a berry, he likes sweet ones the best. :D
(Art by me.) Aurora or "Rori" for short is a Mega evolved Bunbori that also helps out around the fields. This good boy loves swimming, and Bitter food.

Picture of Pebbles

Drawn by
Lumineu
Drawn by
Årmadittø
Sprite by
BurningRose
code
* sprite by Game Freak