EmeraldSands315

's Profile



MAX
Brave nature

Everstone
Special Evolution Item
(

: 0)
A peculiar stone that prevents a Pokémon from evolving when Held.
Sells for

250



MAX
Timid nature



27%
Careful nature



27%
Timid nature



27%
Naïve nature


27%
Sassy nature
Go to Fields
Trainer
EmeraldSands315



Joined: 23/Feb/2019
Starter: Treecko
Rank: C Champion

Gold Normal Gemwish Badge

Silver Fire Gemwish Badge

Titanium Water Gemwish Badge

Titanium Electric Gemwish Badge

Adamantium Grass Gemwish Badge

Gold Ice Gemwish Badge

Platinum Fighting Gemwish Badge

Mythril Poison Gemwish Badge

Gold Ground Gemwish Badge

Gold Flying Gemwish Badge

Gold Psychic Gemwish Badge

Titanium Bug Gemwish Badge

Silver Rock Gemwish Badge

Bronze Ghost Gemwish Badge

Silver Dragon Gemwish Badge

Mythril Dark Gemwish Badge

Silver Steel Gemwish Badge

Silver Fairy Gemwish Badge
Praise helix! 138H/1S/1A
About EmeraldSands315
Intro
About Me
Tab 3
Tap 4
Links
Quiz stuff
Hello! I probably won't be super active on here most days since I'm an adult with responsibilities, but I'm happy to be here. Fields are (mostly) sorted and stacked apart from display fields. I don't know what to do with random PMs and am historically bad at replying, so best not to send them; I'm not completely opposed if there's
something
Trades (apart from just asking for my stuff unprompted), common interests, et cetera.
you'd like to discuss, though.
Andrew | he/him |
not a minor
Too lazy to keep bios up-to-date on my age; if the specifics are important for whatever reason, feel free to ask.
6w5 | ISTJ-T |
queer
gray-ace/biromantic trans man
|
autistic
Please be patient with me if I mess up or need something explained.
I'm a gentle nerd who likes Grass Pokemon (Roselia is my Broselia), cats, and
RespectShipping
the Pokemon one, Ash and Drew; I don't watch Yu-Gi-Oh.
. I live in Tennessee and I write for fun--I can be found on AO3 (EmeraldSands) and FFNet (EmeraldSands315).
I'll figure out what to put here someday.
I'll figure out what to put here someday.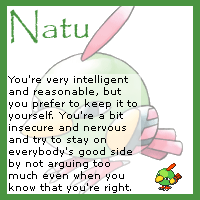 I can name 238 Pokemon in 15m 0s
Click here to Play