D33RG0D5

's Profile

Trainer

D33RG0D5



Joined: 18/Jan/2018
Starter: Rowlet
Rank: A+ Champion

Mythril Normal Gemwish Badge

Titanium Fire Gemwish Badge

Mythril Water Gemwish Badge

Platinum Electric Gemwish Badge

Mythril Grass Gemwish Badge

Platinum Ice Gemwish Badge

Platinum Fighting Gemwish Badge

Titanium Poison Gemwish Badge

Titanium Ground Gemwish Badge

Mythril Flying Gemwish Badge

Platinum Psychic Gemwish Badge

Titanium Bug Gemwish Badge

Mythril Rock Gemwish Badge

Titanium Ghost Gemwish Badge

Gold Dragon Gemwish Badge

Platinum Dark Gemwish Badge

Gold Steel Gemwish Badge

Wishalloy Fairy Gemwish Badge
Y Y \ { @⁰ꈊ⁰@ } / I hoard deer pokemon bc the furry fantasy contains only deer, and thats the law. thanks for coming to my ted talk 68S/ 14A / M Total = 1,518
About D33RG0D5
D33RG0D5
Welcome to the Game of Life!
Xyli / Male (FtM) / 25
About me....
I am a deer but also a god. I do godly things,such as make puns, draw with my crayon antlers, make life "fairy" gay for you all. Also if your ever feel sad or need to pray for a melan. Pray / Click the holy St.Antler.
Made by Zeon Credits Background : Pokémon: The Series Icon : whimsy
Fav
Favorite Pokemon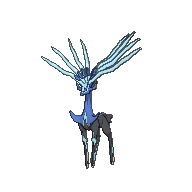 × 50 / 10000
Chain - 9S/7A/ M Total 267 (locked)
Dreams do come true if you believe hard enought!
Click
Clicking Policy!
I click back at about a 1:1 ratio, sometimes more if I wanna get my interactions up. If you click me and you don't have Pokémon in your party, I will click your first few fields and come back later. I try to mass click all new players to help them level up faster as well. I tend to also massclick at times randomly choosing people's fields for fun! However, if you want me to click you every day and hatch your eggs nonstop please pm me for VIP. Also, if I click your party first, and in return you massclick me, PM me so I can return the favor! If you click me while I have Pokerus, I'll only click back your party; it just gets too overwhelming for me to try and click everyone. Please understand that I will try to mass click back but I can not garentee.

- 130
Shops
My Shops and Special Links
A Joint Shop with Gale and Shinobu.
(Totally buy from me only, just kidding!LOL)
The Silent Forset Shop
My Art Shop
-Will make a new one soon -