🧡Narrator's Realm🧡
Forum Index > PokéFarm > Journals >
POLL: Watch / Read One Piece?
---
Welcome to the Narrator's Realm
Will try my best to be PG, however I do recommend only 13 year olds or older, to read.
---
The Basics
Name: HorrorGal13
Nicknames:(As in I don't mind being called) Horror, Gal, 13, (Only friends can call me this if they want) Jet
Birthday and Age: June 2nd & 18 y.o.
Personality: I try my hardest to be friendly, especially online. Whenever I am in a bad mood, whether anger or heavy sadness, I tend to be quiet and not very productive.
Misc. Note: I talk about the most random of things you could think of and it would mostly be revolved around what I like.
Interests
Types: Animals, Anime, Music, Tv, YouTube, Writing and Pokémon.
Animals
I am going to be that crazy cat lady because I love all cats. Big and house. I can tolerate dogs, however I can't tolerate them for very long.
Anime
One Piece
I know I am in the mid 900s somewhere. Either way I love to talk with any fellow fans, Manga readers included.
Favorite Characters
1.Charlotte Katakuri - I just love everything about him, he's relatable to me in a sense. 2.Queen the Plaque - His song is my jam dude. 3. Roronoa Zoro - I just like how he fights with like everyone on the ship for the funniest of reasons, that and his napping thing is relatable. 4. Dracule 'Hawkeyes' Mihawk - I love my mysterious and 'Hates the spotlight' black haired males. 5. Charlotte Cracker - He is just so funny to watch.
To Watch List
💜My hero academia - I started it with One Piece, but I stopped because I got confused with episodes and stuff. 💜Heaven's Design Team - It keeps popping up in my YouTube recommended and the clips are so funny but awesome at the same time. 💜If you want to suggest any to me, note that I like my adventure, and dark laughs.
Music
Lots of creepy music, YouTuber created music and oldies but goodies. U2, LINKIN PARK, CG5, TryHardNinja, Three Days Grace and Skillet are some examples of what I listen to.
Pokemon
I love all of the following's evos too!
Fire
Litten, Fennekin, Flareon, Entei, Numel & Pansear
Water
Vaporeon, Mudkip, Carvanha, Panpour & Popplio
Ghost
Misdreavus, Shuppet, Yamask, Litwick, Golett, Honedge, Mimikyu, Dhelmise, Lunala & Sinistea
Dark
Umbreon, Houndour, Poochyena, Purrloin, Zorua & Nickit
TV
Gravity Falls - Fav Character is Bill; Hazbin Hotel - Fav character is Alastor; Ghost Adventures - I believe in the paranormal, especially ghosts. Movies: Abraham Lincoln: Vampire Hunter, Venom, Captain America: The First Avenger, Spider-Man 3(Yes that horrible movie, but you know what it is funny to me), Incredibles 1&2.
Writing
I write to calm down my nerves.
Fanfics
Most of them are definitely violent and thus NSFW or NSFPFQ. All of them are definitely One Piece themed.
Orginal Works
I am working on my own version of Marvel, and trying my hardest to not be too inappropriate with language and imagery. So far it is going pretty well in both of those regards.
YouTube
Markiplier - He's funny; Jacksepticeye - Also funny; Dream - Love his Manhunts; GeorgeNotFound - he's a Minecraft cinnamon roll; Corpse Husband - He's so funny in Among Us.
---
Friends
I know Star in real life.

Allister291

aud.rey

Charsaurtle

CottonEevee

Doduo

icedragonboi

mit.ali

Skitty22

StarWarsGirl

Tredecim

Vio99
Future Hunts
---
S/A/M
Click them all please?
---
Things I hoard
Wishlist
---
Unown Pairs
Notes: If it is over 50% it's good for me.
Current Pairs
T + K = A 59%
A + B = C 59%
U + G = G 53%
E + Z = I 55%
B + T = J 53%
J + G = M 59%
Z + G = Q 59%
M + C = W 58%
Still need
Sprite Organization
Original idea was from aud.rey. Unless
Otherwise stated, All Gen 6+ sprites are from conyjams on DeviantArt.
Skitty22
Made by Skitty22
Made by Skitty22
aud.rey
Made By AudreyC27!
Made By AudreyC27!
Vio99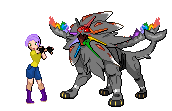 Fuzzlz

Made by Fuzzlz (Eli) at ☼ Solar Eclipse Sprites ☾

Original Sprite by conyjams on DeviantArt (Free to Use). Sprite edited by Fuzzlz (Eli) at ☼ Solar Eclipse Sprites ☾

Sprite edited by Fuzzlz (Eli) at ☼ Solar Eclipse Sprites ☾

Sprite edited by Fuzzlz (Eli) at ☼ Solar Eclipse Sprites ☾

Sprite edited by Fuzzlz (Eli) at ☼ Solar Eclipse Sprites ☾
GengartheGr8

Made by GengarTheGr8
CottonEevee
Made by CottonEevee
Made by CottonEevee
Made by CottonEevee
Made by CottonEevee
Made by CottonEevee
Unless Stated Otherwise, all sprites that are Gen 6+, are made by conyjams on DeviantArt
---
Other Art
icedragonboi
Dracule Hitoda (OC)
Bartolomeo's Victory
Bartolomeo and Bellamy don't belong to either of us, they belong to One Piece creator Oda.
---
My Will
Just in case if I leave PFQ permanently. To be edited if I plan on it.
Ok Journal starts now. Hoi friends
Why is my journal called the Narrator's Realm? Because my narrator for my original universe, is an Oc and she sits in a Narrator's realm and looks over other dimensions and narrates what is going on. I plan on adding 4th wall breaks, but in the form of author's notes.
Surprise this was my second secret project.
One of my reserved is probably going to be a description of all my Ocs. And I mean all.
Cannot post: Please log in to post