Birthday sprites
Forum Index > PokéFarm > Discussion >
Lord I got my new birthday sprite today. I almost have enough for a full team lol!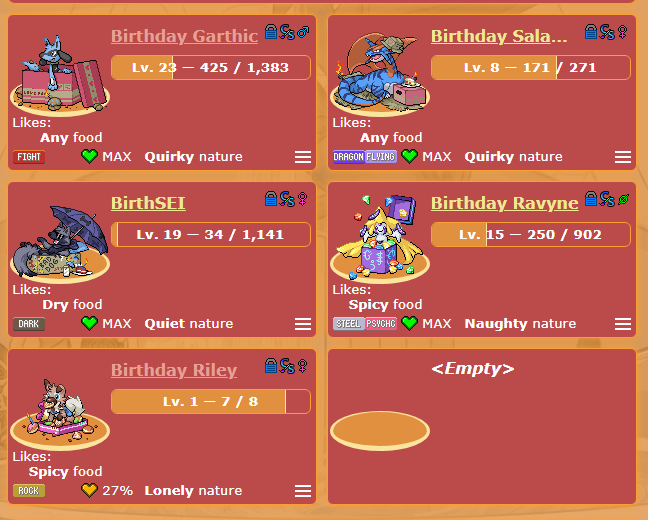 Neat! I just got my first one, though I've been on the site for years!


27%
Quirky nature
i cant get one, cause i wasnt asked for my Bday when i registered. :( what stinks is that my Bday was a few days ago! and i cant change it cause i dont feel safe giving out my birth certificit info! and yes, I am crying right now.
first birthday sprite i've ever gotten on here <3 just got her today
Misc.
The Emperor
Cherry Girl
Blackberry Boy
i'm mike. check out my
comic
,
art shop
, or
journal
if you want click the pokemon in the other two tabs, please!
icon drawn by me, it's my pokesona

Gold Leaf
Treasure
(

: 0)
A strange, gold-coloured leaf.
Sells for

1,000



MAX
Hardy nature

Haban Berry
Rare Berry
(

: 0)
If a large enough volume of this Berry is boiled down, its bitterness fades away. It makes a good jam.
Flavour: Bitter/sweet
Colour: Red
Firmness: Soft
Growth time: 72 hours
Sells for

30



MAX
Hasty nature

Bluk Berry
Berry
(

: 0)
Though this small, delicately skinned Berry is blue in colour, it dyes the mouth black when eaten.
Flavour: Sweet
Colour: Purple
Firmness: Soft
Growth time: 8 hours
Sells for

20



27%
Lax nature
Cannot post: Please log in to post