Spring Shellebration
Forum Index > Core > Announcements > News Archive >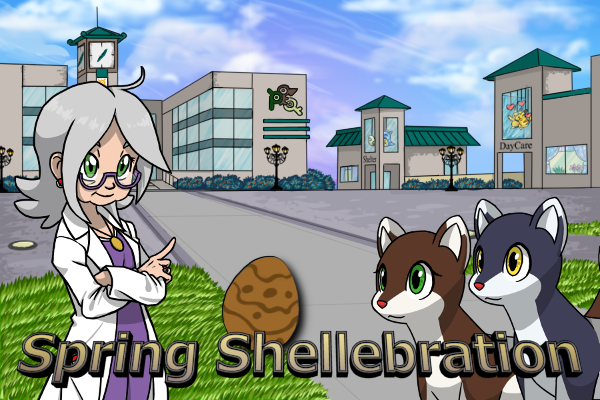 Presented by Sei! The event begins April 21st, and ends on May 5th (2 weeks total). A button will appear in the Timers bar, just like for all events. Prizes for this event include a new Custom Sprite!



* Players will be able to choose one of the three sprites Please look forward to it :)
Discussion thread
It has come to my attention that some people aren't getting the CS reward for... Some reason. ... And as I typed that, I figured out the reason.
Anyway
the point is I will be fixing it when I can, however since I am away from home that might not be possible right away. I'll see what I can do. If you were affected, don't worry. You WILL get your prize, you might just have to wait for it. But hopefully not for long.
---
EDIT: Fortunately, I was able to get my laptop up and running (the battery had died due to not being charged/used in months, and then Windows Updates...) and the issue has been fixed.
Technical detail for anyone who cares! Includes spoilers.
The final objective, "Scour X times in the Ocean", was a new kind of objective that required additional data to be stored with your "scour history" data. Specifically, it didn't save the location before. So nearly everyone was counted as having done zero before the event. The final step gives you the CS, but only if the "quest data" counter is not zero. This caused a conflict and resulted in it not giving you the CS. This has been fixed by adding 1 to the "number of Ocean scours done" while counting, and affected users should now have their Petripeep.
Well, this is embarrassing. The code to distribute Clear Nectar as part of one of the objectives was erroneously placed inside the code block for handling the distribution of another "bonus" item. Honestly I'm amazed so many people have gotten it - including myself since I didn't particularly try hard! But this does explain why there were a lot of complaints about it being too difficult. Turns out, if people are reporting mathematical impossibilities (ie. 20 failures at what should have been a 60% chance = about 1 in 91 million!) then chances are there's an error and I should actually look closely at the code. In this case, indenting was to blame. It was inside another item's code block, rather than its own. Oops! But this is fixed now, and all being well you should be able to get the needed Clear Nectar when you need it. (On the plus side, you gained Garden EXP for it and therefore got more slots, right? :D)
Cannot post: Please log in to post