Shiro's Art and Life Journal
Forum Index > PokéFarm > Journals >
POLL: Do you actually read what I write?
POLL: How often do you check the progress log?
---
Front Page!
My Active Hours!
-I'm most active at server time 13:00 PM to 4:00 AM. Although please refrain from messaging me closer to 4 as I go to bed. Hello to any and all reading this! This is my first journal so it's not really fancy. I would of put a template in here, but honestly it's kind of a pain to do so you'll just have to deal with this plain ol text. I'm sure you've noticed the abysmal banner up top there and that's because I made it in 30 seconds. I'll eventually make a super nice banner at some point, but I'm slammed with things and shouldn't even be wasting my time with doing this in the first place. But like always Shiro here does things on a whim. Anyways, enough chit chat outta me, I'm sure most of you want to see my art more than hear me talk about pointless things. I understand. I'm not intresting as a person, you all want me for my art. But it's okay because I like the attention regardless.
A few things to note.
Please don't post in here! If you feel the need to comment or tell me something, just send a PM! I'm fairly friendly and will most likely respond to you within the day.
-It's a me~
Shiro Faques:
Age:
20
Birthday:
November, 18
Likes:
Meat, rice, broccli, anime, small quiet spaces.
Dislikes
Brussel sprouts, crowds, large open rooms.
Fun fact:
I find wild mushrooms cute and endearing.
Navigation:
Characters
Current Projects
Saving credits for a Type:Null hunt.Swapping gp for credits 1:1k, buying ultra beasts 150gp each, null vouchers ,1,000gp! Just send a trade or pm!

× 88252730 / 200,000,000
Characters!
This will look nice at some point in the future, but let's talk characters.
Featured Character!
Vincent Stellin!
Vincent is a relatively newer character of mine. I haven't quite developed him as much as the others but I do want to expand at some point. He's especially lacking in art, which I want to fix when things are a bit clearer. I made Vincent in an attempt to draw more masculine men. I know he's not the manliest, but he's definitely not girly. I was lacking in tall characters as well seeing how Mona, Shiro, and Aureon are all on the small side. I put him in the same world as Lady Yunica and I feel they have in an interesting relationship. Obviously Yunica would hate Vincent's guts will his carefree attitude and lack of proper Holy Church mannerisms, but maybe there's a bit more underneath that if ya catch my drift~ Anyways, Vincent is on my list of characters to draw more. I've got a few ideas for him. Also his eyes do open and are in fact thin and yellow! Here's his
page
for more info and pictures!
Past Featured Characters!
Shiro
Hanamiya Shiro
Her name is the same as mine, Shiro! Technically her full name is Hanamiya Shiro. I made her based off of a live action story me and a friend made back in high school. Despite how cheery she is the story was quite dark and gruesome. Shiro ended up dying fairly early in the story which made me quite sad, but she's evolved past that and become somewhat of a mascot for me. She was my first character that's lasted through the years and I've grown quite fond of her as I find myself sketching her in my notebooks all the time, haha. Recently she underwent an upgrade and gained a new outfit! I quite like it, even if it's a bit risque. She looks so serious though, I should draw a happy version in that outfit sometime.
Here's her
toyhou.se
page for more images and info!
Mona
Mona is a bit of an interesting character. I made her as just one of my random sketches. She's actually slightly based off of a character from Trails of cold steel. I can't remember her name, but she was from the second game and had the cutest cat outfit, even if it was a bit raunchy. I ended up falling in love with Mona's design and drew her a few more times. It was so heartwarming to draw her being so innocent and pure. Wholeheartedly cleaning her robo arms or picking flowers. I really want to make a big piece of her doing a rocket punch or some kind of cool attack! If I ever get the time to that is, haha..ha... Anyways, Mona is probably somewhere around 15-16 years old, even if she looks young. I imagine her having a soft quiet voice. I even ordered commissions for her since I love Mona so much. I want to draw her tons and tons~ Here's her
character page.
Nouveau
So Nouveau hasn't quite reached the same level as Shiro or Mona, but he's still important to me. He was known merely as fabulous fellow for the longest time. And when I mean long time, it's been two years, haha. Actually the file names for his pictures are still called fabulous fellow. As for why his name is Nouveau, I'm not quite sure. I guess it just suits him. Now then, a little more info about our fabulous fellow here. Purple suit and pink triangle glasses are quite brave. This here's a man who doesn't fear society. And also a very rich man, who makes millions off of selling stocks. He's really short, but is a grown man in his twenties. I'll have to make a proper picture of him at some point, but then again, I have to do that for a lot of my characters, haha. Still I felt Nouveau here deserves a little attention so he's the featured character! There's not really any more info on him here, but there's some more pictures.
Nouveau
As for other characters, there are plenty, but I don't feel like adding them all right now. This journal is kinda barebones at the moment so I'll just stick this lil ol link right here:
Toyhou.se
Progress Log!
Here's where I'll be showing what I'm working on! Of course I'll be listing shop orders as well so check here if you want to keep tabs on things. I'll try to update exactly what I'm doing with some pictures even, but don't count on the images as I'm very lazy!
I update this frequently so check up every now and then to see the latest in shiro art!
I'm currently working on..
Shop Orders
Shop Orders are back! I've learned my lesson with trying to do all orders at the same time so I'm back to one at a time.
Bakugo 5/7
So this one is another final fantasy online character. I really do love the variety of designs the game has. This one is a summoner and I'll be adding some of her summons in there. I'm testing out a new style with this one that I hope will be better looking than before, especially when I add the colors. -------------------------------------------------------------------------------------
Personal Works
I'm bringing this back since I want to draw for myself sometimes. I've got a couple things going on, which I'll be working on sporadically.
Daily Life Entry 1
So today's my birthday! I'm very lucky to have it on my precious day off. And I'll be thoroughly enjoying it knowing that Thanksgiving is around the corner and I'll be working extra. I can't say I'm looking forward to staying an hour overtime packing all the pies in boxes, but at least I'm getting paid for it. I'll be turning 20 this year, although I think next year will be a bit more exciting. I've been working really hard lately on trying to improve my art. I feel like I should be so much better than I currently am at this age, but I still have some more time to improve. My goal is to work at a gaming company and draw game art. My ideal is Falcom, but that's a bit of wishful thinking and I bet most of you have never even heard of them. Which is no surprise seeing how their quite niche here in the US. But maybe you might have heard of the YS series, or perhaps the Legend of Heros saga? If not then you should, especially if you're fans of amazing music and well developed characters and story lines. Now that's enough advertising out of me. There's not much to talk about really, but I do like to waste your time. I'm sure if you're reading this then you're clearly invested enough to learn about my exciting life. Well too bad, I expertly raised your hopes only to dash them horribly. But! Worry not, new adoring fan! I'll spill my secrets eventually, but you'll need to wait for the next episode to find out. I wouldn't be a very good writer if I told you everything at once. I need a cliffhanger in order to have you keep reading don't I? With that, today's entry is all done. I have work after school tomorrow, so don't expect an update. Although these are called daily life entries, I probably won't be updating everyday. I mean things would get pretty repetitive. So with that, I leave you with a goodbye. Oh, but before that, I should add some art shouldn't I? This is actually an older work, but I hope you enjoy it as it's fitting for a pokemon site.
daily art
Daily Life Entry 2
I was lucky to finish my work early in class and leave. I'm enjoying my brief respite before heading to spend my evening knee deep in apple pie filling. I can't say I'm looking forward to it since I'm very tired already. Still, it'll be that much better when it's over I guess. I've been doing my best to tackle all my orders, but it still remains a daunting task. Especially since I'm very concerned whether or not I can do adopts this month. I'm ashamed to say I haven't even started any. But there's still time left in the month so I'll have to find a way. I've been disapointing everyone lately with being so busy, I have to at least make it up to them. I've updated my current progress on what I've been doing. I'll try to update it daily since I usually draw everyday. And I've once again been procrastinating on art and doing some sketchs. I'll just dump them all below. But keep in mind, that I only actually made the mermaid girl yesterday, the rest are all sketches I've made earlier.
Sketch dump
These pictures are nice and all, but pale in comparison to the glorious gem right here. I know at least one of you has seen this already, but I feel the joy must be spread. This originaly started as a normal piece, but I just couldn't get the guy's face right so I said screw it and went crazy.
needless to say, despite how romantic senpai hopes to be he does not end up getting what he wants in this continuation. Also his clothes magically change. But in the world of anime, this isn't unsuall in the least.
Now then, I think I've spammed you with enough art for the day. I'm going to be spending what little time I have before work getting some more progress done on orders. I won't be updating the progress until either later tonight or tomorrow.
Daily Life Entry 3
Hello folks. If you happen to be subscribed to my adopt thread, then I'm sure you received the announcement I just posted. I really hoped I would be able to handle it, but I misjudged myself. I'm still not recovered from yesterday's rush and staying quite late. I have to go back again today, but hopefully the big pie orders are already boxed. I was thinking about the hospital that orders 500 pies every year. They spend 6000$ on that alone, unless they get some kind of bulk discount or loyalty bonus. Still, that's more than I make in a year, haha. That's what I get for only working 15 hours on a non busy week. But with the workload this semester has given me, I might as well be full time. At last tomorrow is turkey day and I have the day off. A rare commodity indeed. And I desperately need that day off I feel like my limbs are going to fall off. It'll be the first time my family goes to our aunt's house for thanksgiving since over 4 years. I'm looking forward to not having to clean any dishes more than anything. And I can relieve some much needed stress by playing some games, something I haven't had time for in a while. I admit that my current guilty pleasure is Maplestory 2. I intended to only play a little bit and focus on the original Maplestory, but it's too addicting. For an artist like me, having the free customization for clothing designs is like a candy store. I ended up making Shiro's shirt and Estelle Bright's outfit from Trails in the Sky.( A Falcom game of course.) I don't have the whole picture but I do have this little icon to show you. I can't say I did the best job on her outfit, but they had the right eyes and hair. Maybe you've even seen me around.
Now then, I think that's enough pointless talk about games. I should enjoy my brief time before I get back to the craziness. I especially don't like these times because the atmosphere gets very tense and my bosses all argue with each other in Italian. For those of you who are wondering what the heck I even do, I suppose I should tell you that I work at an Italian bakery. And no, I don't speak any Italian, nor do I decorate the cakes as I get asked that a lot. Which seems kind of obvious that a young hire goes right to the thing that people go to college to get a degree for. Once this time is past it will be a relief to get back to my usual relaxing pace and I can work in peace. I'm exceptionally glad that I don't have to tend to customers since I have trouble just saying hello to cash registers in stores. I've wasted a good portion of your time, so here's some more art!
daily art
It's Adol Christian from the YS series! Alternatively there's this version I made in microsoft paint with a mouse. Truly a masterpiece.
Edit! I added some polls up top to judge how interested you are as well has who you are. I'll be refreshing it after some time to see if any strangers turn into die hard Shiro fans.
Daily Life Entry 4
And so my glorious day off is drawing to a close. I enjoyed a very tasty thanksgiving meal at my aunt's house which we hadn't had a meal there in quite a few years. I spent my time drawing birds with big muscly arms and earned myself a few laughs. You can thank my dad for requesting them and it gave me some good practice. There's a ton of them, so I'll be adding the pictures at the bottom which most of you will inevitably skip to without reading this text I painstakingly wrote. If you however are reading this, then I congratulate you on your persistence or perhaps extreme boredom. I decided to take the day off from working on commissions because even I need a break here and there. Unfortunately I may be closing my art shop for a long time, or even permanently. I know many of you probably are horrified of hearing this news, but keep in mind this is just how I feel now. Commissions are holding me back from really gaining skill and if I ever plan on working for Falcom I need to get much better than I currently am. If only I could improve like a shonen anime and just have some old man trap me in an art dimension where I emerge months later being the best, haha. Things have calmed down a bit, but are by no means relaxing. I did spend the day taking the last pictures I need for my final project in class. Although there's still the chance of me ruining the film before I process it completely, but I'd rather not think of that. I was very lucky to have my dad's collection of zoom lenses at my disposal. I still have to make a lot of prints and mount them, but having one step done is a relief for me. I hope you don't all hate me for mentioning my griefs towards my art shop. I do enjoy a lot of commissions, but I feel restricted in my ability to test out new styles and poses. Especially backgrounds which is where I desperately need to improve on. I'm still quite stressed out so it's clouding my judgement a bit. When things clear up I may be able to balance both commissions and personal works. so the permanent part is not likely to happen as so many of you have waited for art, I can't bring myself to disappoint everyone more than I already have. Now then, sorry to post some slightly heavy stuff, here's some birbs to lighten the mood!
birbs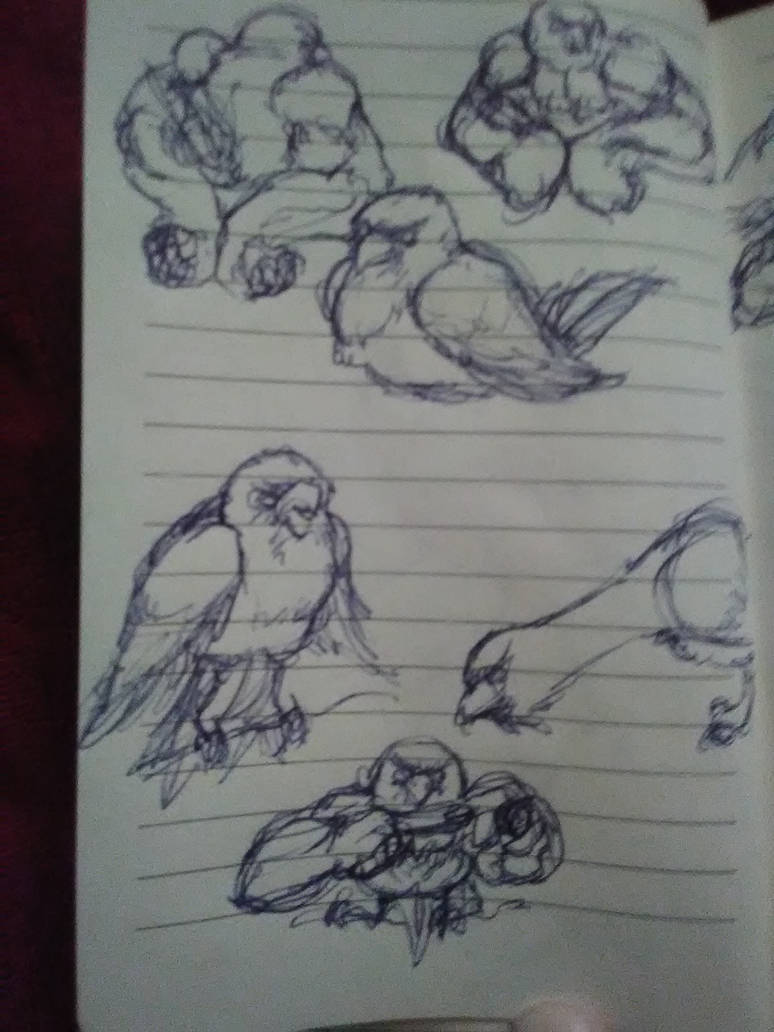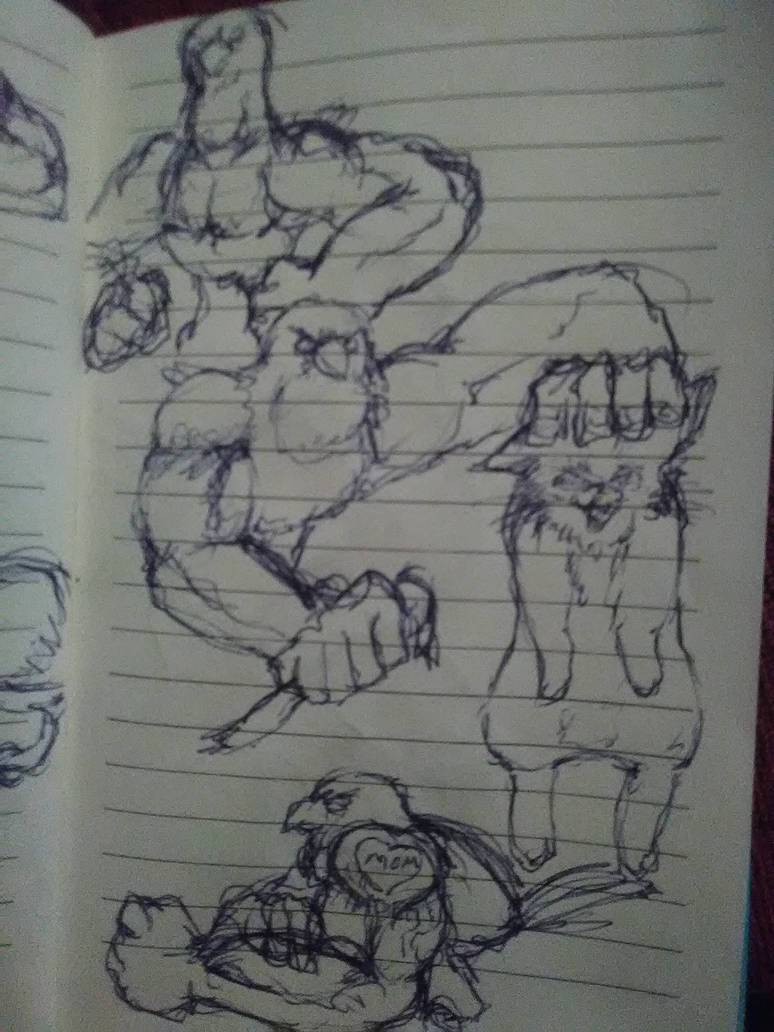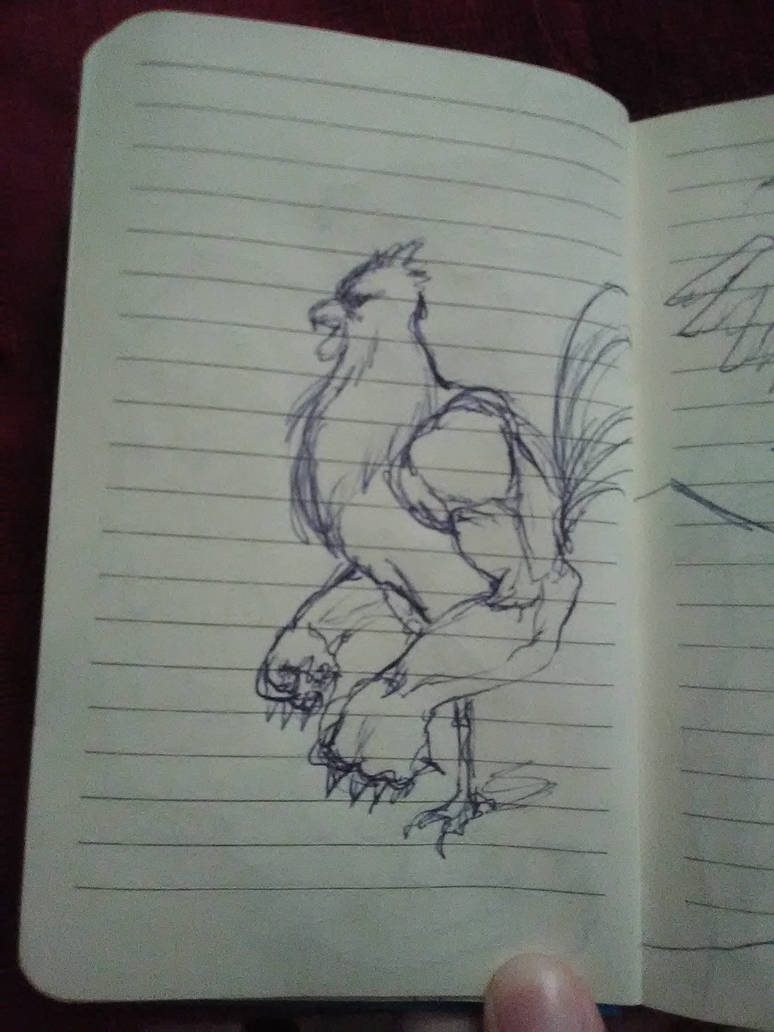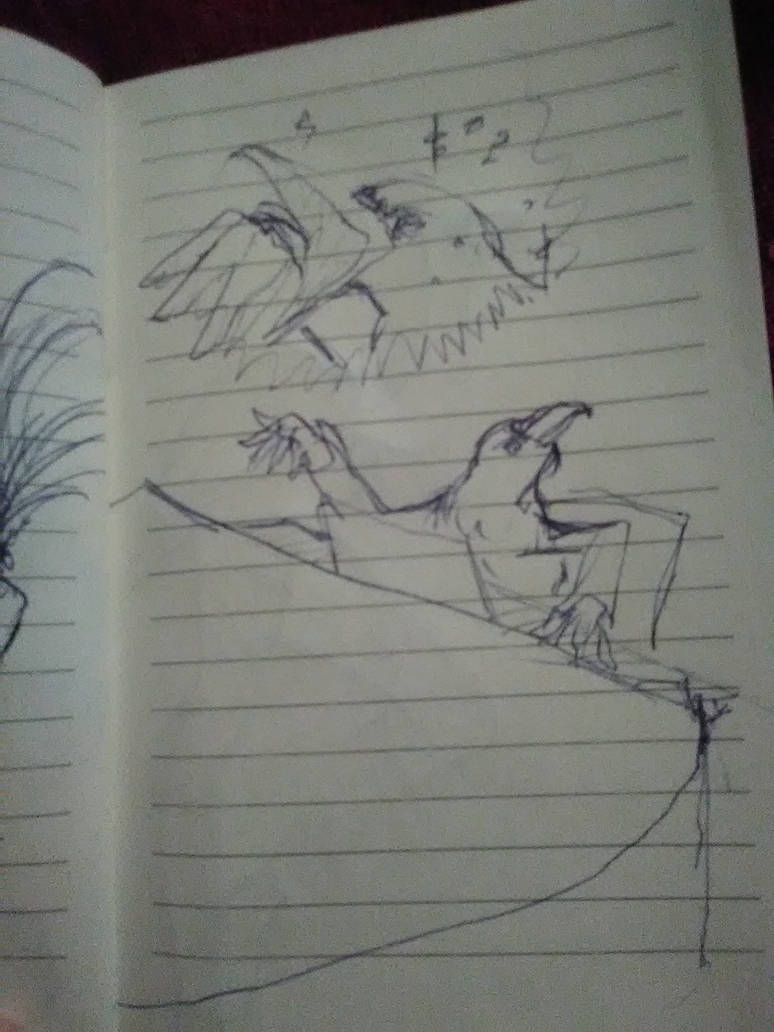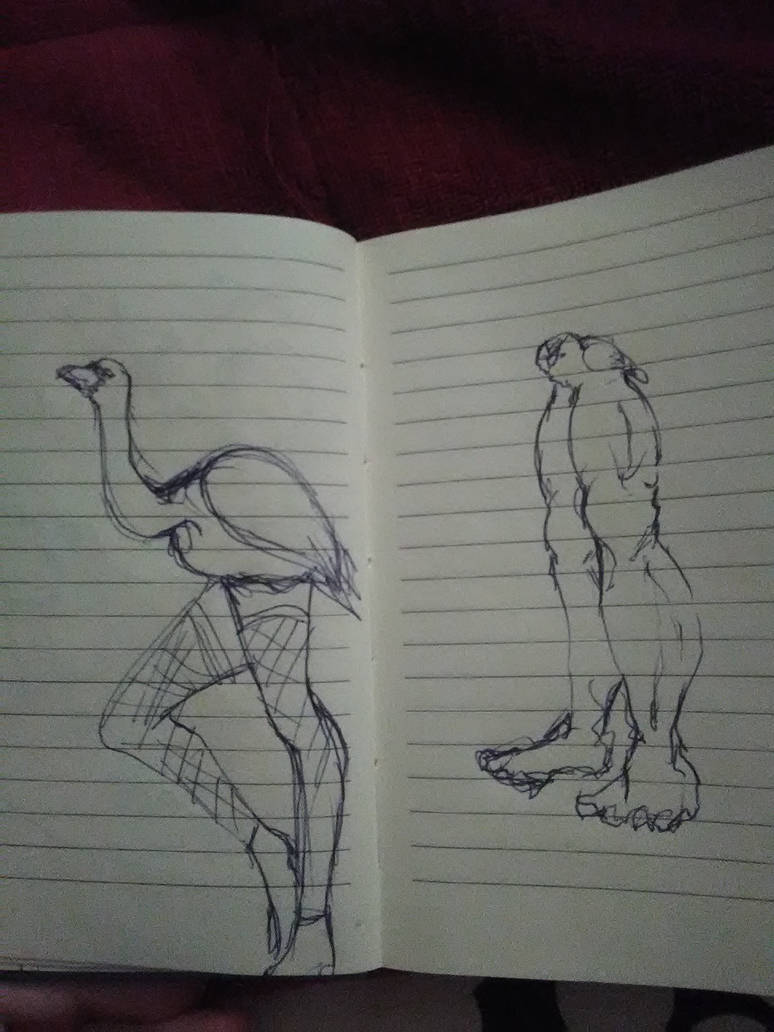 Daily Life Entry 5
Up to five already. I've been doing a good job keeping up with this. But maybe you'd like me to slack off because it means I've once again forced you to read another gargantuan wall of text. I do my best to break it up, but i do apologize that I have so much to ramble on! Now then, another day another drawing. I finished up one of my commissions. Or rather part 1 if you've been keeping up with the progress tab then I'm sure you've seen it already. I did add the finished version for those who are curious. I didn't end up posting it on deviant art, because I felt that i needed to save it for something more substantial if that makes sense. I'm feeling a bit better than I was yesterday. I'll probably still be closing my shop until Christmas and the semester is over and i get a little break. I want to be able to work on pieces at my leisure. I feel commissions pressure me too much and I can't do a good job when there's too much going on. I vastly underestimated how busy I would be. I don't think I've ever had a semester this busy. Anyways, time for some art! And here's some real retro stuff. This is the very first digital art piece I ever made. Complete with a mouse and microsoft paint! Just a reminder that I didn't start out talented, in fact I really sucked at art for the longest time. Even now I wonder if I have that much talent. I've only reached my current level by investing my entire life into it.
terrible old art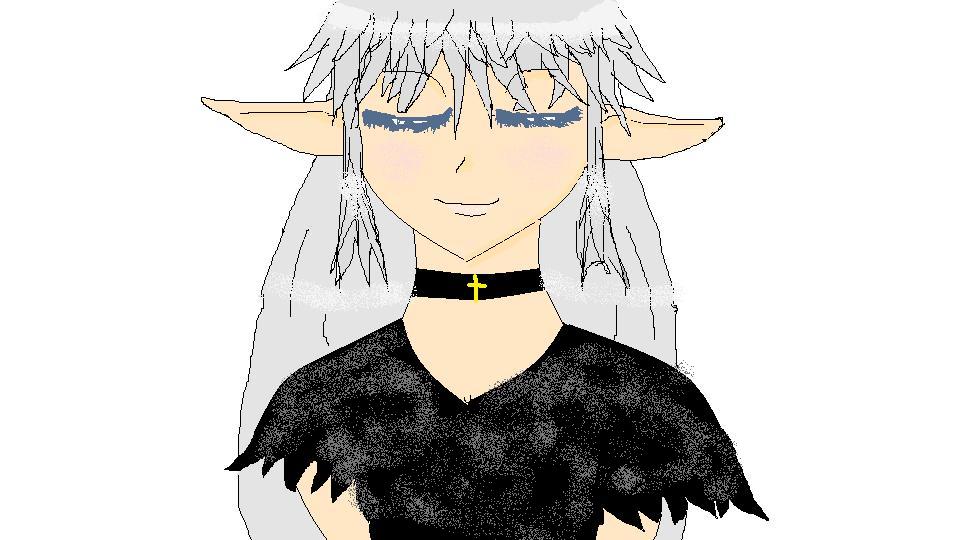 Now here's some better art to cleanse your eyes with. These are actually a few pictures from a game I had to design in a class aptly named game design. I'll eventually add more about him in the characters tab, but his name is Ian. Which it would of been some random japanese name, but it was for a class and I didn't want to be that disgusting of a weeb. Anyways, I might end up posting the game design document at some point, but here's the art that you all look at before reading any of this anyways.
Daily Life Entry 6
And so another day draws to a close. I skipped a few days and that's because nothing particularly interesting happened. There's really no point in saying I woke up, ate breakfast, worked on commission and played games everyday. Once the semester and Christmas end these updates will probably be a bit more scattered as free time means less exciting events. Now then, today wasn't especially spectacular either, but I have some new art so I felt it necessary to write a little something to go along with it. This is a journal after all, a way for me to document my everyday life to complete strangers. Although if you're still reading then I can't quite call you strangers. You've moved up to the acquaintance level, congrats! I applaud you in your valiant efforts to get me to spill my deepest darkest secrets.-Well, I won't tell you everything, but I guess you deserve a little something. Although it's more of a fun fact than a secret. I like the smell of canned fish. A lot of people seem to dislike it, but I find it very tasty, especially tuna. Also when I play games I talk to all the npcs because I like to see how much effort and love devlopers put into their games. You can actually tell a lot about a game by how interesting the npcs are. It's also the reason why I end up having way more hours on a game than most people. I just like to take the scenic route I guess. That's enough pointless rambling about myself, which I imagine a lot of you skipped because why waste your time reading about how I like canned tuna? Here's what you really came for.
Mona
I apologize for the poor quality. I wish I had a scanner, although my pocket sketchbook is very small so I wonder if it would scan nicely. I have to say Mona has really grown on me. I usually draw random characters a lot, but for some reason I got really attached to Mona. There's just something about her that I really like. I actually plan on making a large effort drawing of Mona doing a rocket punch. This is just a prototype version of sorts. My teacher was going off on one of his political rants again, so I had lots of time to draw. I did more than that, but they were most just tiny scribbles that weren't worth posting since the camera would ruin all the details and it would just look like a grey blob. I should wrap this up now. But one last thing is I've added a new sketch to my progress log. I know I shouldn't have, but I felt it was a bit too substaintal to place here, so I moved it up. And I have been trying to update the progress log daily, I wish there was a way to notify it so you didn't have to spend all day refreshing the page hoping to get a glance at the latest in Shiro art, haha. But the suggestion I made is most likely to be rejected due to the staff having no intrest in making that a thing. Oh well. Anyways, I'm off to work out and watch some anime, I'll be posting another entry sometime with hopefully some more art.
Daily Life Entry 7
It's been 2 days since I last updated, so I'm due for a refresh. I've started my long list of secret orders, which I will not be showing progress for since it's a suprise gift for a user here. However, I may dabble in a few personal works, one of which I did update even though it's half done and looks completely wrong. I've been trying to work of up/down angles lately since I need more practice in that aspect. And another place I need improvement is my character designs. I've tried to fix that with Aureon here.
He's a bit lacking in true detail right now, but I'm making a new avatar of him for me. I really need to fix his eyes and face a bit to make him more masculine since right now he completely looks like a girl, oops. Oof, the more I look at this, the worse it seems to be. I have a lot more to fix. I want to try and use more coloring techniques.
Anyways, finals are creeping ever closer, as is Christmas. Things are going to get very hectic, so don't expect much art or even updates the closer that gets. This is a pretty short entry since there really isn't much to talk about, but I feel like I need to put a little more art in here to compensate. So here's some fan art I did a while back.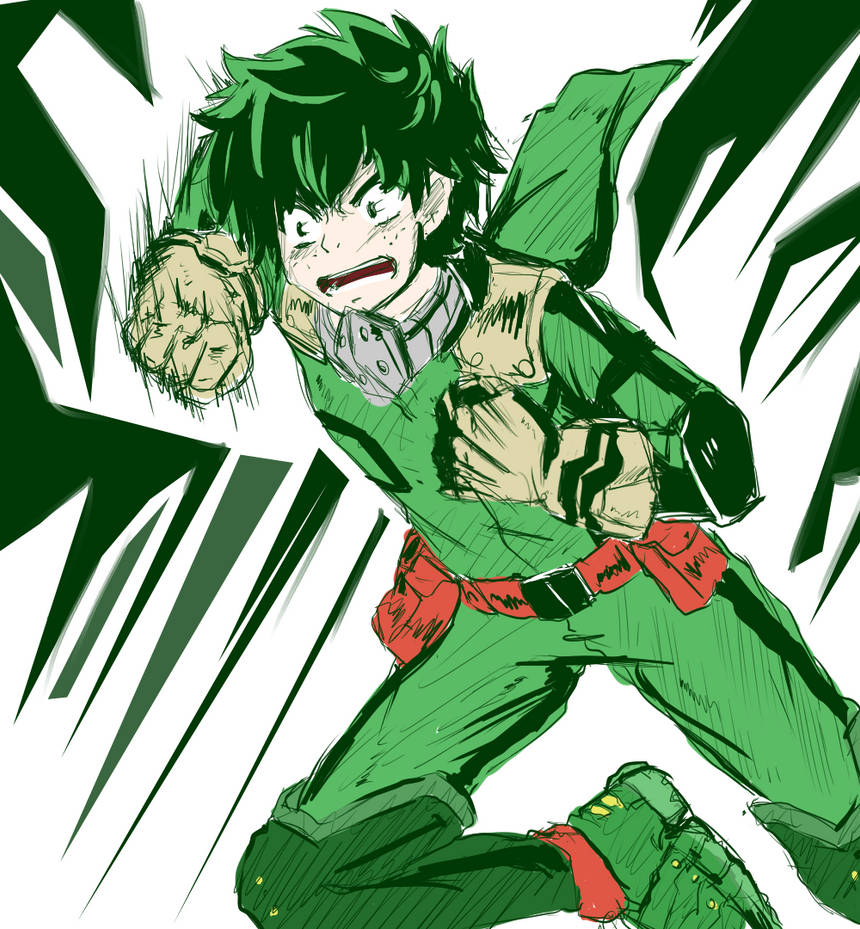 Cannot post: Please log in to post