Lets complain about melan hunts!!!
Forum Index > PokéFarm > Discussion >
kinda funny the first time
and now i'm a lil salty
at least i'm getting lucky picking parties to delta ;w; edit: are you joking???
I only hatched albinos yesterday during Sei day. At this point it's just making a joke out of probability. I'm gonna have to shell out for another uber and crystal for next Sei day, aren't I :|
and in the same slots too... :pensive:
i'm just.... so tired of this hunt. i started scatterbug cuz it's an easy hatch and works with a lot of the tourneys, and then i hatched a melan! then i wanted to hatch more for pattern swaps, but it's been more than 4000 eggs since that melan and i just... don't care anymore. i'm so tired. and this always happens, i don't know why i thought this would be different. i did this in my roggenrola hunt; got a melan at 4k and didn't get another. quit at 10k. honestly i don't know if i want to mem.stick this or just drop it. get arceus back. hope for a better chance on a fresh chain. i started this hunt in october, hatched the melan in december, and now i'm at 7620 eggs in february and it just hurts.
Waterium Z for 13 shiny (with shiny twin INCLUDE) and 4 albino? OH YEAAAAAAH. In summary, i have 49 shiny and 39 albino with 2247 chain. I'm so sad. I just need melan froakie to over my delta-hunt :c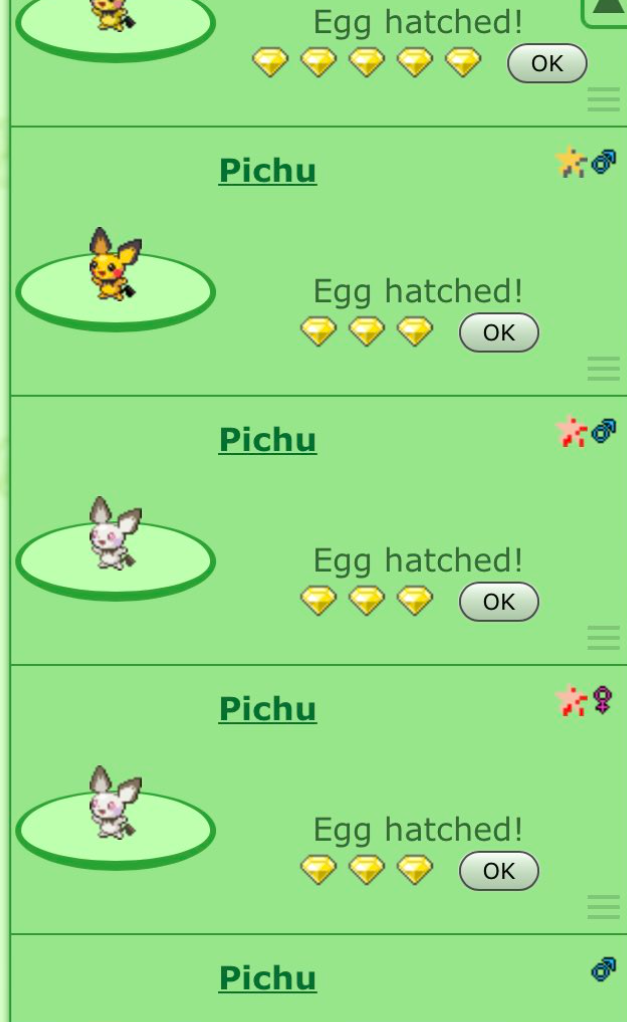 now this is just mean
This is just rude.
i was hopeing sei day would give me better luck ive hatched qui a bit more then the normal amount with z crystal and everything and only have gotton 1shiny today i think im like 70eggs in for the day so far?
Rando pokemon i love
My Shop!
progress bar
made by hollowedwolf
i have Shiny,albinos,charm rents and more!
527 /200

uber:3
Shiny Charm, Z crystal, max charge. Not a single melan. EDIT: SALLY ARE YOU SERIOUSLY GIVING ME SHINIES NOW??? GIVE ME MY MELANNNNNNN I KNOW IM ONLY AT 255 EGGS BUT I HAVE FULL BOOSTS
Avatar Credit: Terriblinkz!! 🐉Rawr! Let's win this!🐉 🐉Team Dragon February 2021 points =2159

🐉
yep sei das are still not working for me not even shinies; this is cruel and kanto vulpix are killing me
Kotto❤She/They 3

/1000 19

/1000 3

/1000 Hi I'm Kotto and I'm a durp! Please consider checking out my
art shop
with my friends! (It's my main one :3)
Sig & BG credit * Avatar credit
Cannot post: Please log in to post