Animela's Ataraxia
Forum Index > PokéFarm > Journals > Staff >
Things Most Generations have in Common (minimums before extras): 3, 3 stage Starters. Fire, Water, Grass Fire starters -> Tend to be Based on the Zodiak Line Grass Starters -> Tend to be based on Prehistoric Animals 2 Pokemon Bug Lines 1, normal line (Usually based on some form of Rodent) 1, Flying line (Based on Bird) 1 Electric Line 1 Dragon Line 2 Fossil Lines 2 Similar but Version Exclusive Lines Flower Line 1, 2 stage Line based on some form of Sea Creature (not Crab) At least one Pokemon with Dopplgangers.
(Similar Pokemon in same Gen/Multiple Forms of same pokemon that are seperate)
They either come in a Matching pair or feel like the Artist got into an Arguement with himself and just decided to keep both versions
At least one pokemon that can change forms either at will or under circumstance. 4-5 single stage pokemon EVery other Gen introduces a 2-stage Mushroom Line All generations have at least two, 2 stage Lines. Either feline, Canine, or one of each. Every Generation provide at least 1 pokemon line with at least three pokemon, one of which evolves Uniquly from all others in its generation. Minimum Pokemon per generation under these conditions: 49-51
>(ouo)< I haz more space. Feel free to PM me, I don't bite!
Honeslty it's kinda funny. I was looking through my Photobucket hoping to come across a few old Designs of some Fakemon I did. I know I've done a lot over the years but it's been a while and most of them have been lost due to either changing computers or losing thumbdrives. Found these Gems.








And then I realize that all of these were sprited and designed in 2010. Honesty I think the only one Salavagable from this mess is Lilatad and it still needs to be resprited xD The others either need either a massive design haul or scrapped altogether.
Finally done with a Large order I got over Discord from one person. $130 base, not including the Designer's fee because I had to create all of the characters from text. This is the Very last one. He's an Armadillo Lizard.
Bonus QUick Animated Version
Now to finish up the Complex Animated one for Malorak on Discord and I'll be done with Big External Orders. It'll probably be another week or so tho.
BananaMoonKit Drew this Candy Costume of a Gummy Worm Wagell
So I made Fan art because it's too cute.
Woo New Avatar
->
5 years later I finally draw Nunka again I forgot how fluffy she was
Livid. Bi-Yearly "natural" disaster has struck again. Sister Flooded my house... AGAIN. She's over for a visit.. took a bath.. and flooded into my living room. Asiduahdalskjh She's already set it on fire once.. she's already flooded it before on the oppsite end... I really need to stop letting my Sibling in my house. These repairs are super expensive even if we do them ourselves. The last time she flooded the house, we had to replace the entire subfloor for the Master bedroom and got really lucky that the living room was fine. This time the other end of the house was flooded so I'll be lucky if the chipboard that makes up the subfloor in the hallway & living room doesn't start to sink like the Master Bed did before...
I realize I'm terrible for breaking my own posting schedule but everytime the Fam comes I just get so overwelmed. I've never had the best relationship with my Mother and in recent years for a lot of reasons, the one with my sister turned to poop as well. So them showing up for any reason usually ends up with my hackles raised and standing on the edge until they leave. Luckily they're leaving now, although a bit late concidering my sibling already tried to destroy the other half of my house by flooding it. It's still damp... So I hope the floor isn't going to end up damaged too badly but chances are it'll sink with use over the winter. That in and of itself is frustrating. On the bright side, somehow my luck let up finally. No Hm, using a normal Radar, I was chaining the PotD because lolwynuttourny for a mini "hunt". I did so as a personal joke but 140 into the chain later and I've got 3 Shiny Fletchling for my Collection and 1 Albino that I don't need.
Concidering the Last Hunt I did with Swirlix with only a Radar and no HM took until 1/1418 which only ended because I activated a Charm on a Sei day and then hatched a couple hundred eggs, I'm counting myself lucky because my chains are usually bad even with HM. Imagine my surprise when I go to put birds away and one has brown wings. Was like "wut... wat is this?". It said 2/109 and I'm like "Oh shoot there was a FIRST one?"
What is this madness
Welp, was working on cleaning up the Journal, moving "fun" posts to an earlier one and completely removing others because they either leave a bad taste in my mouth or are stupid. But then Chrome decided randomly to just shut down so now I've got several pages of pretty much empty posts, my spare post that I needed to make is poof and uhm... x.x Now I need to go back and refind all the deleted information for the stuff I was keeping. Talk about frustration. I'll just fetch stuff later and continue movement of other stuff I'm organizing when I get the chance.
Meanwhile, this is super exciting:

My Spriter's Application went through so now I get to help. Still figuring things out/settling in. Best hopes I can work on some neat stuff
Woo hoo! Going to be heading off to the Midwest Furfest. It's Fun Furry convention with one of the largest Attendence numbers last year. While I would have prefered something not so huge in proportion to its peers, it will be my first Convention in attendence of this type and my first general convention in a very
very
long time. So I'm hoping it'll be as fun as what I've heard from several sources. I'm seeing a lot of stuff in the schedule that I'm personally interested in so it'll definitely be an experience! Didn't get the chance to order the fur for my Fursuit head so I guess I'm going full faced. Not entirely what I wanted but oof.
Ramblings of a Parent
Last few weeks were busy. Got stuck with the Inlaws who of course decided as usual that their lifestyle was the best and annoyed us to no end. Even by the end of it the Baby didn't even like being carried to the car let alone being strapped in it because we'd be shuttled to an average to about 4 different locations on the daily. Thank goodness that's over. I'll have to discuss it with my Fiance when he wakes up and during the trip whether or not we'll bring her to the convention because some trusted family members offered to watch her and we'll be passing through their area halfway on our way down to it. (I accidently left my Headset there so we're making a stop anyways). While she doesn't normally do too bad in crowds I think it might be safer to leave her with family for the week. She wasn't too fond of thanksgiving with the inlaws until she was introduced to a group of 6 other children within a year of her age range(She's 11 months). However, for most of it she was visably upset and pretty quiet instead of her happy talkative self so the amount of people in one area may have been too much for her at the time. Leaving her with the household of part of my family that tends to quite enjoy her company despite not getting to see her often may be the better choice at least for this convention. It'll allow us to be able to enjoy some more hands on/not as infant friendly panels so it may be worth it in that area as well. Personally I'm on the fence because it feels like she's a little young to be left for a few days with family even if she does have everything she needs but at the same time it's a chance to be a little more selfish and enjoy something I've wanted to experience even before I was thrust into the parenting scene. So I guess it's a lot to think about in such a short time since the offer was made due to us having to stop by anyways to retrieve my needed electronic. //ramble ramble//
I should probably be loading up the car while he's sleeping instead of typing but I Haven't slept. Partially because of excited jitters and partially because I had things to work on.
I ended up loading up the car and prepping everything before submitting this anyways lmao. Countdown to leave happens in 1 year ago(8am EST) And we plan to get there in time for 6pm EST to pick up our badges. (1 year ago)
Headshot Concept: Sugar Cookie The character is made to look like Icing. Extra "harder" parts such as Noses or small Decos are made of Candy. Eyes use Glitter Candy. Slightly Mimics character Popcicles in drawing Style.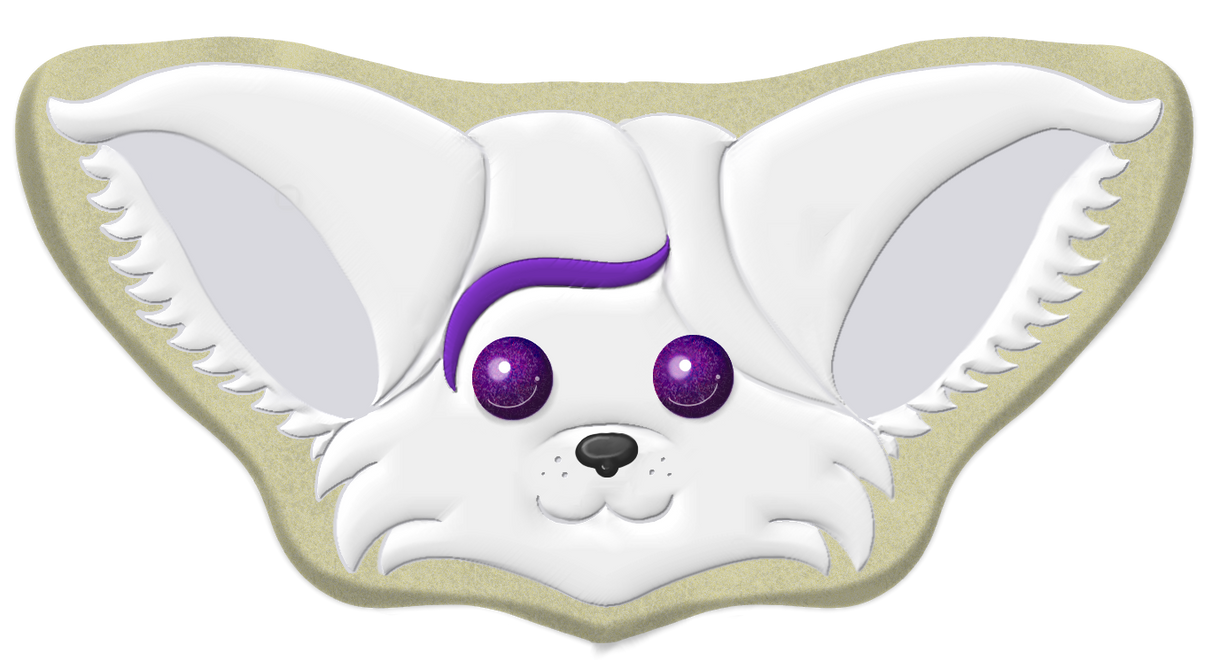 Cannot post: Please log in to post