Contests
Forum Index > PokéFarm > Discussion > Event Discussion >
"The Colourful" is my favourite theme, I love seeing all the vibrant and bright entries. You ranked 11th out of 1,070, placing you in the top 2%.
avatar is a screenshot of verosika mayday from the series helluva boss previous usernames: silkyway55, braixen101, saee, rosaliexx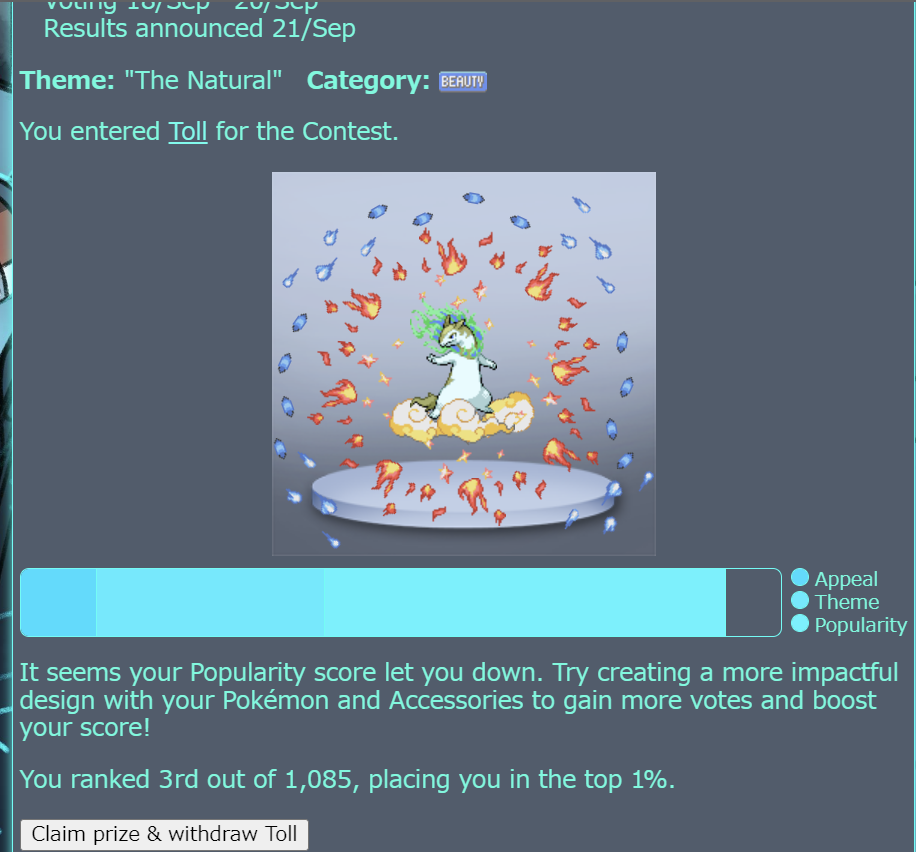 I'm so excited!!!
Buying Rusted Shields @30ZC/equiv, any amount! Send trade/PM me!
Badge by LycanKai | Avatar by @Sliggoo | Tuggle by @BananaLizard
233rd in the top 22%, wanted to make it look like she was eating a giant banana
new to forums, still learning I like to talk about magical animals called Pokemon can get emotional easily but that's ok since I love you all anyway my icon is from Pokemon Cafe Mix btw! Such a cute game~
It's his first time participating, I think he did really well. You ranked 77th out of 1,085, placing you in the top 8%.
You ranked 72nd out of 1,085, placing you in the top 7%. I wasn't a huge fan of this design, but I think it went well!
Avatar is by me; Pokemon versions of two of my OCs.
It seems your Appeal score let you down. Pay attention to your Pokémon's Contest Stats and feed it Pokéblocks to match the category and boost your score! You ranked 392nd out of 1,085, placing you in the top 37%.
welcome
Raiden - she/he/they /url]

Dark Gem
Gem
(

: 0)
A gem with an essence of darkness.
Sells for

10
Abyss/Astral




27%
Lax nature
.
You ranked 23rd out of 1,085, placing you in the top 3%.
I'm sorta iffy about this one, the mushrooms are out of place but I was half asleep when I did it. That said still super happy with my score.
Buying:-


@ 5kcr/5gp per 1zc.

Diamond Tiara
@15zc Set up trade, PM or post in my shop.
Variation on a (previous) design. Did pretty well despite some glitched bits :-)
. You ranked 29th out of 1,085, placing you in the top 3%.
Team

Continental Crush (rock)
:
0 pts
Current Shiny Hunt 2/264
One of my best perfomances
You ranked 42nd out of 1,082, placing you in the top 4%.
Cannot post: Please log in to post