Single post in Simple Journal
Forum Index > PokéFarm > Journals > Simple Journal >
---
Please read the whole post carefully!
---
I'm looking for users who actively hunt, or plan to hunt Ditto, to get in touch with me, keep an eye on IVs, and let me know via pm in case they do hatch one.
IVs are all I care about. If one I need happen to be shiny or albino, depending on IVs, I will raise the offer. Please, please, PLEASE read the explanation. I'm not looking for any random Ditto but the one with high IVs. (not EVs, IVs!)
---
I'm offering
6 000

for a
186IV
Ditto.
> Please read my explanation carefully. > Show or link Ditto so I can see IVs myself. > I don't care about nature and delta type. > If Ditto is s/a, we can talk via pm. > Feel free to ask questions.
---
I'm willing to pay
Explanation
I am looking for a specific Ditto that has maxed out 3, 4, 5 or 6 IV values. You can see IVs under Battle tab when you click the battle tab. Max IV value is 31, while 186 is the maximum sum (6*31=186). Using my 3IV Ditto as an example, you can see it has three thirty-ones in the IVs row. That means it is a 3IV Ditto.
3IV Example:

5IV Example:

How 6IV looks like:

Example of 3IV Ditto: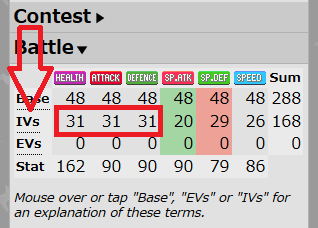 >>>
<<<
---
I contacted Triibu, Førbidden, Shazi, michanne001, KaiserMeowser, AriDae, Aphelios1595, RogueWolf26 and frøst1595, and I looked at GeorgieKun13's fields.
Please link Ditto you are talking about so I can take a look if you are unsure if that's what I'm looking for.
---
! 500

reward if you find +4IV in user's field ! ! 100

if you find 2-3IV I need in user's field !
---