Single post in Simple Journal
Forum Index > PokéFarm > Journals > Staff > Simple Journal >
---
Please read the whole post carefully!
---
I'm looking for users who actively hunt, or plan to hunt Ditto, to get in touch with me, keep an eye on IVs, and let me know via pm in case they do hatch one.
IVs are all I care about. If one I need happen to be shiny or albino, depending on IVs, I will raise the offer. Please, please, PLEASE read the explanation. I'm not looking for any random Ditto but the one with high IVs. (not EVs, IVs!)
---
I'm offering
20 000

for a
186IV
Ditto.
> Please read my explanation carefully. > Show or link Ditto so I can see IVs myself. > I don't care about nature and delta type. > If Ditto is s/a, we can talk via pm. > Feel free to ask questions.
---
I'm willing to pay
▶
1.5k

for a Ditto with
over 170IV
Sum but no 31 in IVs. ▶
1.5k - 2k

for a
3IV
Ditto if it has
under 160IV
Sum or
2IV
Ditto with
over 170IV
Sum. ▶
2.5k

for a
3IV
Ditto if it has
over 160IV
Sum. ▶
6.5k

for a
4IV
Ditto. ▶
6 000

for a
5IV
Ditto. ▶
20 000

for a
6IV
Ditto. Note: I have Dittos I can swap with you in addition to payment (
Sassy
,
Lax
,
Lonely
,
Relaxed
,
Rash
,
Modest
,
Flying-Brave
,
Dragon-Docile
,
Poison-Bashful
and
Psychic-Docile
) in case you need one after I bought yours.
Explanation
On Summary Page, Battle hide, Ditto needs to have two or more 31s in the IVs row. Max IV value is 31, while 186 is the maximum sum (6*31=186). Using my 3IV Ditto as an example, you can see it has three thirty-ones in the IVs row. That means it is a 3IV Ditto.
3IV Example:

Three numbers are 31, hence the label 3IV.
5IV Example:

As you can see, only one number isn't 31.
How 6IV looks like:

All numbers are 31.
Example of 3IV Ditto: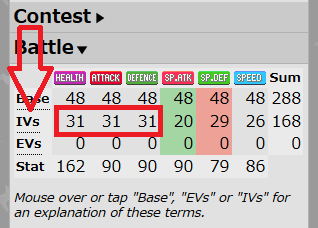 >>>
<<<
---
Please read!
I contacted Chaoman12345, schleifi, Triibu, Førbidden, Shazi, michanne001, KaiserMeowser, AriDae, InsaneMandii, StarWarsGirl and RogueWolf26, and I looked at Bishop, Aphelios1595 and GeorgieKun13's fields.
(If I talked to you, and you're not on the list, please pm me asap!)
Disclaimer:
The reward for finding Ditto is given
after
I successfully buy it as that is the whole point of the search, to help me find it so I can have it. Demanding reward after linking is begging as this is not a trade deal - it is me showing my gratitude for your help.
Please link Ditto you are talking about so I can take a look if you are unsure if that's what I'm looking for.
---
! 550

reward if you find +4IV in user's field ! ! 150

reward if you find 3IV in user's field !
---
Offering 20.000

for 6IV Ditto
Silver Coin Shop [5IV, 6IV, Custom IV Hunt, Training, DP, 0IV]
Disclaimer: I'm not native English speaker. Please read my posts and messages in calm and friendly tone, and do ask for further clarification in case of confusion. Thank you! ~