Single post in The Art Continuum
Forum Index > PokéFarm > Journals > The Art Continuum >
Hey. I'm Scarab. I watch over the Moray Abyss.
---
Navigation
Quick Links
▲
About Me
▲
PokéSonas
▲
Art Shop
▲
Progress
▲
Melans
▲
Hunts
▲
Inventory
▲
Shop
▲
Special Thanks
▲
Credits
Dexing Services
▲
Rules
▲
Kanto
▲
Johto
▲
Hoenn
▲
Sinnoh
▲
Unova
▲
Kalos
▲
Alola
▲
Galar
▲
PokeFarm
Navigational Information
You are here! The first page of my journal is large and full of information, so I recommend using the links to visit each post separately. There are links at the bottom of each section, made for easy browsing!
My characters, specifically my PokéSonas. Contains art and information about Vortex (AKA Spin), Scarab, Ankh and (soon) the Moray Abyss. There's a link to the rest of my characters on Toyhouse if you want to see more of them.
Looking to buy some art? Check it out! If you have already commissioned me, and didn't set your commission to private, you can find a link to your piece on here. Just in case you ever lose it!
My progress on PokéFarm. Contains information about my goals, badges, and accomplishments.
You can view my amazing melanistic Pokémon here, plus some of my other significant Pokémon!
A log of all of my past hunts with (mostly) accurate stats. You can see what future hunts I want to do. This page also contains a table showing what breeding pairs I own.
Tables showing most of the items in my inventory. Can be used as a reference in case you want to borrow something, or if you want to try and buy something off me that isn't listed in my shop.
My Pokémon and item shop. This was supposed to be a placeholder, but it turns out I prefer having all of my shops in the same place, even if it does mean I don't get as much traffic.
This is where I keep a log of what the people of PokéFarm have sent me over the years. You guys are super generous!
All of my credits can be found here. You can also find my free-to-use templates here, which is a weird location to keep them, but it will do for now.
My dexing services. It also acts as a catalogue of my special Pokémon, and shows which special Pokémon I need to dex. This page is platform heavy.
About Me: Extended Version
About
Stats
Name:

Spin

AKA: Laura, Spinnando, Continuum, Vortex

Location: United Kingdom
Zodiac: Dragon / Pisces
Alignment: Chaotic Neutral
Type: Dark / Dragon
Interests
Animals, art, books, fantasy, music, nature, paranormal, robots, science, space, time travel, video games.
Favourites
Doctor Who, Ecco, GameGrumps, Game of Thrones, Gurren Lagann, Jojo, Merlin, Pokemon, Portal, Ori, Sips, Skyrim, Sonic, Starbound, Stargate, Terraria, Yogscast.
People
Pokemon
What Pokemon Are You?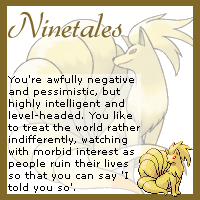 (I hate the idea of telling somebody "I told you so", especially when they're upset. We can always give people advice, but it's up to them if they want to follow it. I definitely do not consider myself to be "highly intelligent" either, but the rest of it is pretty accurate... I think. I'm glad I got Ninetales though and I love doing these quizzes.)
Favourite Pokemon
Absol, Arcanine, Burmy, Chandelure, Doduo, Dragonair, Dragonite, Dratini, Gengar, Hoothoot, Kabuto, Kingdra, Krabby, Leafeon, Magnemite, Magneton, Meowth, Mewtwo, Milotic, Mothim, Ninetales, Noctowl, Persian, Piplup, Pumpkaboo, Raichu, Rowlet, Sandshrew, Sandslash, Skarmory, Skorupi, Starmie, Staryu, Stunky, Skuntank, Umbreon, Unown, Vanillish, Vanillite, Vanilluxe, Wormadam.
Favourite Games
Red/Yellow, Moon, SoulSilver.
Favourite Natures
Bitter: Gentle > Sassy > Calm > Careful.
Favourite Types
Dark, Bug, Ground, Steel, Water, Flying.
Extra Information
Click Policy
Party Clicks: I usually click back. If I don't, I'm probably busy.
Mass Clicks: I hunt for Pokerus most of the time, so if I only give you party clicks, it's because I've had Pokerus. Otherwise I return mass clicks if I have the time.
PM Policy
PMs are fine! They don't bother me at all, but please keep this in mind: I don't like small talk. Questions about the site are welcome, and you can, of course, talk to me about my art, characters, and interests. If you want to talk about something you're into, go right ahead! If you need to vent about something, I'll listen.
Farm Name
Title: Moray Abyss.
The Moray Abyss is a location found in the universe of Ecco the Dolphin, one of my favourite games of all time. It is, as the name suggests, a deep abyss occupied by moray eels. One in particular is gigantic, and Ecco battles it in order to rescue two of the Asterite's globes.
Field Names
My UFT and forge fields are named after locations from Skyrim, particularly from the Dragonborn DLC that primarily takes place on the beautiful island of Solstheim. My showcase fields are named after locations, levels and chapter titles from the Ecco the Dolphin series. My breeding pair fields are named after zones from various Sonic the Hedgehog games. I considered naming my entire farm after Solstheim, but I enjoy the mix.
Melanistic Names
So far, aside from one, my melan Pokemon are all named after Skyrim and Red Dead Redemption characters. Their custom descriptions contain more detail, including some personal lore relating to the world I am building here. It's all just for fun and usually made up on the spot, so it might not make sense.